The French are famous for an upside down apple tart called Tarte Tatin. Apples are cooked with sugar and butter in an oven proof frying pan, topped with puff pastry, baked in a hot oven, then inverted onto a serving plate, so the apples are on top and the pastry is underneath.
This is a mushroom version. As you can see in the photo, I only had ordinary button mushrooms in the fridge. It would be even nicer with a few exotic ones thrown into the mix, but it was still scrumptious.
Use bought puff pastry or Nigella's quick food processor version as I did. Serve with a lightly dressed rocket salad.
40g butter
1 Tbs olive oil
500g sliced mushrooms (preferably a few different kinds)
1 clove garlic, finely chopped
2-3 tsp finely chopped fresh thyme
Salt and freshly ground black pepper
1 sheet frozen puff pastry, thawed (or Nigella's quick version)
To serve:
Chopped fresh parsley or thyme
Crème fraîche or sour cream
Rocket salad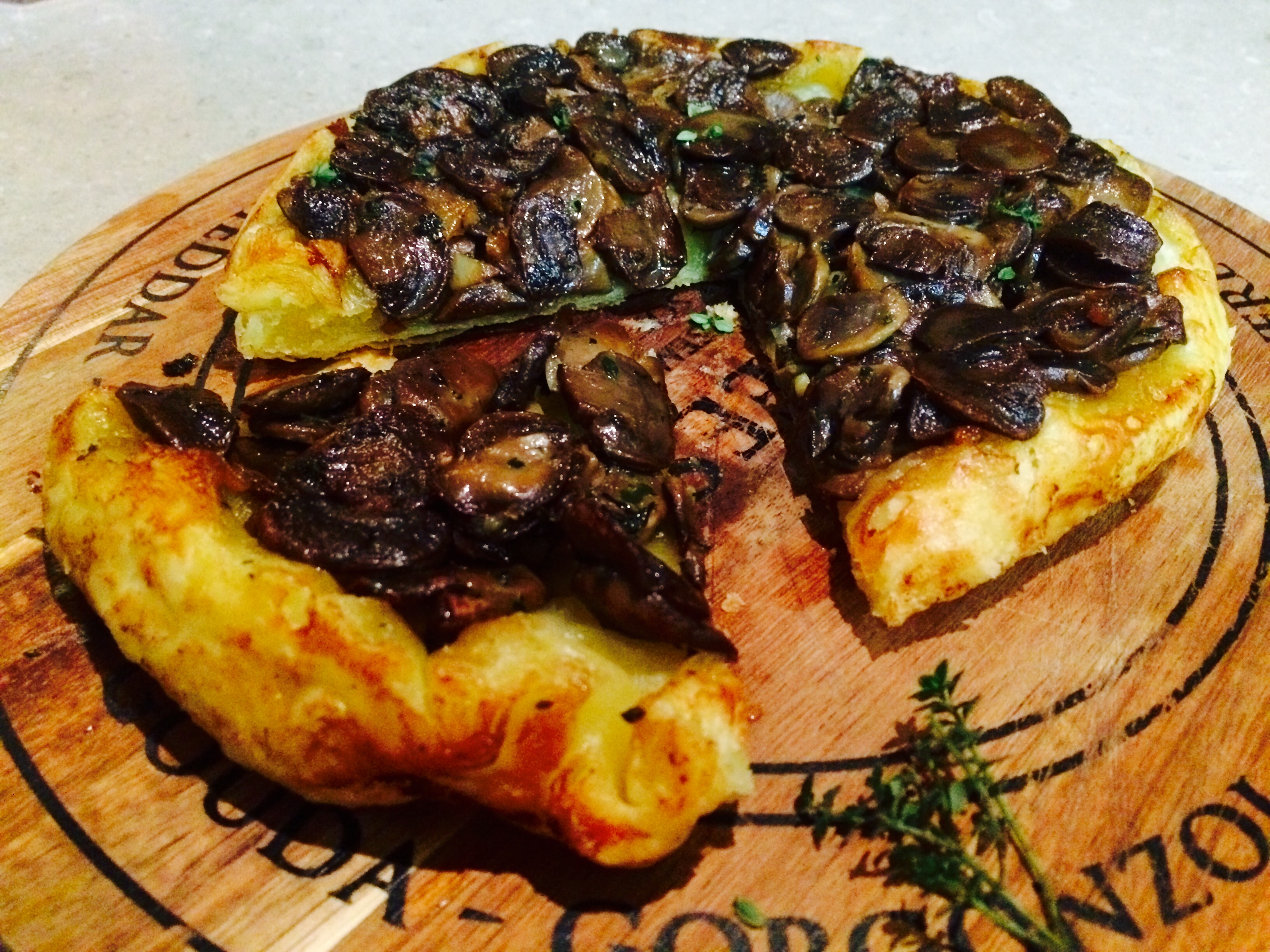 Pre-heat oven to 200°C. Thaw pastry if frozen or make Nigella's..
Heat butter and oil in a 20-25cm non-stick ovenproof frying pan. Make sure the handle is ovenproof too.  Add mushrooms and cook, stirring for 5 minutes until softened. Add garlic, thyme and seasoning and continue to cook for 5-8 minutes, stirring often, until mushrooms are golden and liquid has been absorbed.
Roll out pastry thinly if you are not using a ready-rolled version. Cut out a circle a bit bigger than the circumference of the frying pan. Place pastry on top and tuck the edges in all the way around. Bake for 25-35 minutes or until puffed and golden brown. Cool for a few minutes then invert onto serving plate.
Serve warm or at room temperature garnished with fresh herbs, a dollop of crème fraîche and a rocket salad.
Serves 6