Smoked salmon is much cheaper than it used to be, especially if you buy it in half kilo packets, so I usually have some "on the go" in the fridge.  It's handy for creating a quick salad or pasta dish such as this one, slightly adapted from a recipe in Delicious magazine.
Pink peppercorns, known as baies roses in French, are fragrant and only slightly peppery. According to Wikipedia, they are not real peppercorns but were so-called because they look like them. They go well with most recipes using smoked salmon or gravlax. You can probably tell from the photo that I only had chives and no dill, but it still tasted good!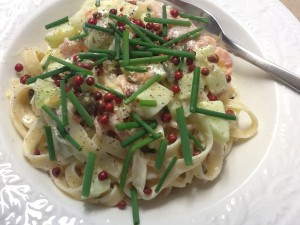 400g spaghetti or fettuccine
1 Lebanese cucumber or half a telegraph cucumber, peeled, seeds removed and diced
1 Tbs olive oil
1 cup sour cream or creme fraiche
1 Tbs white wine or white Balsamic vinegar
1 clove garlic, crushed
1 Tbs capers, rinsed and drained
2 Tbs chopped dill
2 Tbs chopped chives
Finely grated rind of 1 lemon and juice of ½
200g smoked salmon, chopped
To garnish:
Extra chopped herbs
Pink peppercorns (the dry ones, see photo)
Or Salmon Roe
Sprinkle cucumber dice with salt and leave to drain in a colander for 30 mins then rinse and pat dry with paper towels. Cook pasta according to packet instructions, drain and mix with the oil.  Mix sour cream, vinegar, garlic, lemon juice and rind, capers and herbs in a bowl.  Then add pasta, cucumber and smoked salmon.  Divide among 4 bowls and garnish with extra herbs and pink peppercorns or salmon roe.  The dish will be warm rather than piping hot.
Serves 4