When I asked my friend Venessa for her recipe for Rocky Road she sent it by email and at the bottom she wrote "Eat and Get Fat".  So I thought that was an appropriate title for the New Year, when many people are resolving to lose weight!
According to Wikipedia, Rocky Road was invented in Australia in 1853 as a way of on-selling confectionery spoiled by the long journey from Europe. Gold miners in towns outside Melbourne, such as Ballarat, were wealthy but uncultured. Unscrupulous businessmen took advantage of these men, mixing the spoiled confectionery with low quality chocolate and other "filler" ingredients, such as locally foraged nuts. The name Rocky Road is derived from the rocky road travellers had to take to get to the gold fields.
Here's Venessa's recipe which I have doubled and added a few substitutes in brackets. I left out the coconut in deference to someone who doesn't like it. This is an adaptable recipe, so quantities are approximate. I added a few more marshmallows to make up for not including the coconut.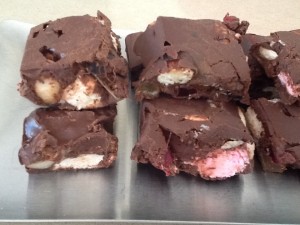 400g block of chocolate, broken into squares
1 cup snakes (or other chewy jelly-type sweets), cut up with scissors
1 cup shredded coconut
1 cup marshmallows snipped in half with scissors
1 cup roasted salted macadamia nuts (or other nuts), roughly chopped
Grease and line a slice tin or square cake tin (approx 25 cm) with non-stick baking paper or use a silicone pan which doesn't need to be lined. Melt chocolate in microwave, approximately 1 minute on high or until melted. Stop to stir halfway through. Add all ingredients and mix well. Tip the rocky road into the tin and smooth the top. Refrigerate for half an hour or until firm, but cut into squares before it sets rock hard. Eat and get fat.
Variation: for White Rocky Road use white chocolate.