My friend Fiona follows a gluten-free diet. I love the nutty texture of her Gluten Free Chocolate Cake which keeps her sane when she's studying for law exams.
Today's recipe is adapted from Fiona's. I've adjusted the quantities slightly, adding less sugar and a bit more chocolate and nuts. I've also added a topping of unsweetened cocoa powder, an idea from one of Yotam Ottolenghi's chocolate cake recipes.
I served the cake as a dessert, with whipped cream and some cumquats I preserved a year ago, but it's perfectly delicious just as it is, with a cuppa. As a dessert you could also serve it with berries or a ball of coffee ice cream.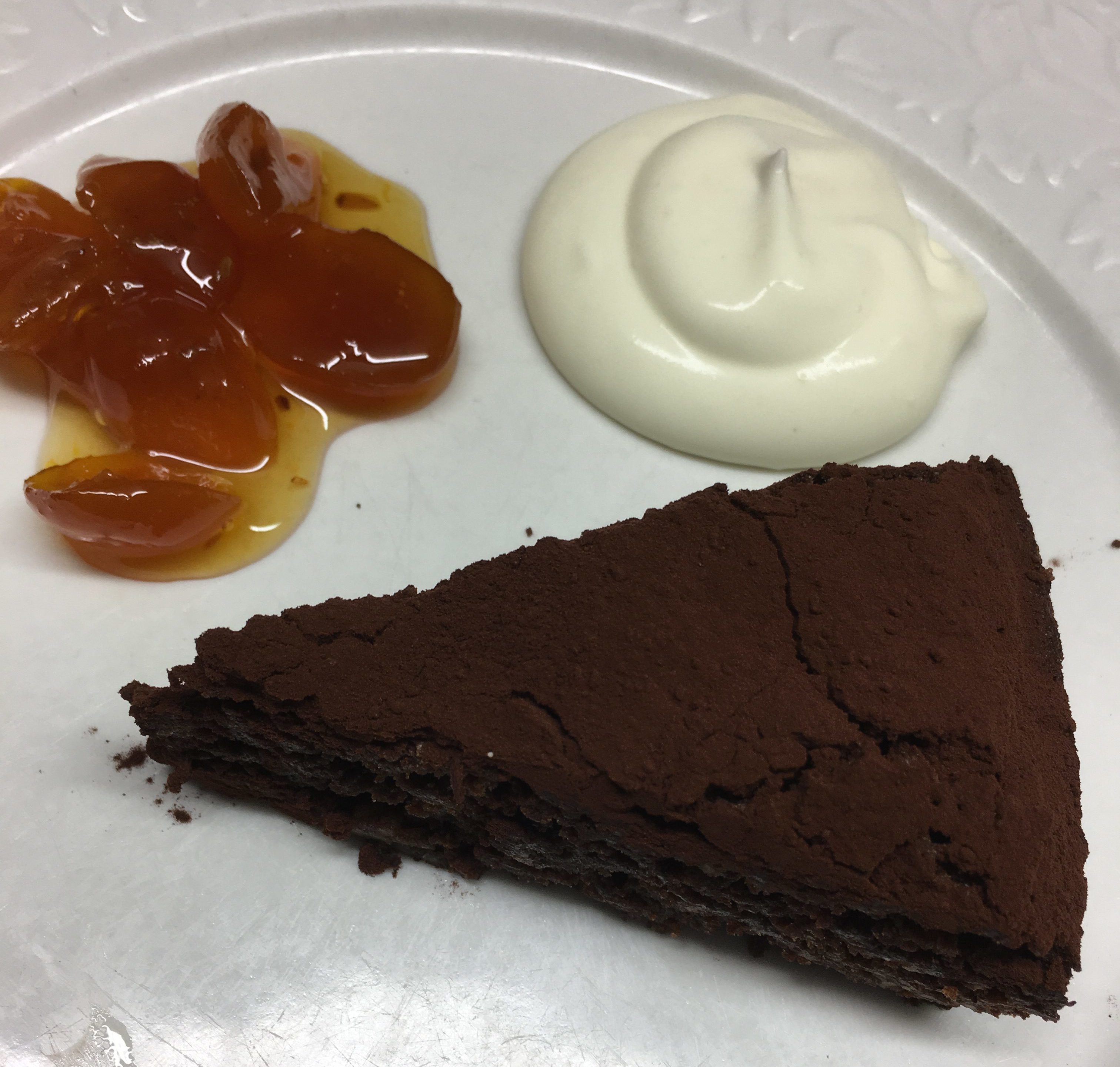 250g dark chocolate
250g butter
250g almond meal*
4 eggs, separated
1 cup sugar
½ tsp baking powder
Pinch of salt
To serve:
About 2 Tbs unsweetened cocoa powder
Candied oranges or cumquats or fresh berries
Whipped cream
Preheat oven to 180°C. Heat butter in a saucepan and when melted add the chocolate, broken into squares and turn off the heat. As chocolate melts, stir to combine. Mix in egg yolks, then sugar, almond meal, salt and baking powder. In a large bowl whip egg whites with electric beaters until soft peaks form. Scrape in the chocolate mixture, in two lots, gently using a spatula to thoroughly combine.
Scrape mixture into a greased and bottom-lined 22cm round cake tin and smooth the top. Bake for 35-45 minutes. Check after 35 minutes. When ready cake will feel firm on top and a skewer inserted in the middle will come out clean. If you have a fan-forced oven you may find the cake is ready in just over half an hour, as mine was. Chocolate cakes are best under-cooked rather than over-cooked.
When cool, remove cake from tin and cover the top with cocoa powder, using a sieve. Serve cake with berries and whipped cream or just as it is.
Serves 12-16
* buy almond meal or make your own by blitzing nuts in food processor until they resemble breadcrumbs. I used half bought and half I made using unskinned almonds. If you don't have any almonds substitute walnuts, pecans, pine nuts or even a mixture.