This version of coleslaw uses Mexican flavours and a light oil and lime juice dressing. Crunchy, colourful and bursting with vitamins, it goes well with burgers, steaks or any roast or barbecued meat or poultry.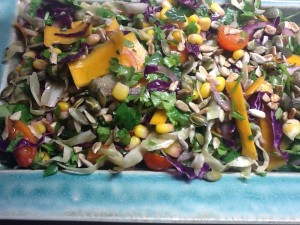 2-3 cups finely shredded white cabbage
2-3 cups finely shredded red cabbage
1 cup raw pumpkin curls (made with a vegetable peeler)
1 cup raw corn kernels, cut off the cob (see note)
1 cup flat-leaf parsley, roughly chopped
1 cup fresh coriander leaves, roughly chopped
1 small red chilli, seeded and finely chopped
1 small or ½ medium red onion, halved and finely sliced
1 punnet cherry tomatoes, halved
Dressing:
½ cup extra virgin olive oil
Juice of 1 lime or ½ large lemon
Salt and freshly ground black pepper, to taste
1 tsp honey
Topping:
2 Tbs pumpkin seeds
2 Tbs sunflower seeds
Place all ingredients for salad in a bowl. Place all ingredients for dressing in a jar and shake. Toast pumpkin and sunflower seeds by stirring in a dry pan over moderate heat for 2-3 minutes. Mix coleslaw with dressing and top with toasted seeds.
Serves 4-6
Note: or substitute frozen corn, blanched for a minute in hot water, or drained canned corn.
Variations: use carrot curls instead of pumpkin; add thinly sliced red capsicum (pepper) and/or zucchini or cucumber, cut into julienne sticks.