When we were living in Paris our daughter Catherine was studying for an Arts-Law degree at the Australian National University in Canberra. She rang one day and said "Hey Mum, I've been thinking, when again am I going to have the chance to learn French with free accommodation in Paris?" Always a good negotiator it seems she had it all worked out. Within a month Catherine joined us in our apartment on the 8th floor of the Embassy building in the 15th arrondissement, having arranged to take a semester off uni.
A few days later the Ambassador's butler Thierry rang. He had heard our daughter was in Paris and wondered if she would like to work at a cocktail party. We found a suitable black skirt and a white blouse and off she went to their apartment on the top floor of the building adjacent to ours.
Matthew and I were attending the party and when we arrived Catherine was busy handing out canapés to the guests. Having worked in several Canberra establishments, including Tilleys in Lyneham, she looked quite at ease. We were chatting in a small group, which included the Ambassador, when Catherine came past again with some delicious hot canapés. As Matthew reached out to take one she whipped the tray away, adding in a stern voice "You've had two already!"
The Ambassador was mortified and apologised profusely to Matthew. He said he had never seen this waitress before and she would never be hired again. When we explained who she was we all had a good laugh. The reason she was keeping a close eye on what we ate was because we had been on a diet for a week in an attempt to lose a couple of kilos. Daughters take their duties very seriously.
After a three week intensive course at the Alliance Française Catherine landed a job in a restaurant called Ze Kitchen Gallerie in the Latin quarter. I thought they would give her an easy job filling water glasses and bread baskets, but she was thrown in at the deep end with ten tables to serve each night. She survived and lived to tell the tale – in French!
If you need something quick to make when friends pop round for a drink, these savoury muffins take no time at all and are delicious filled with smoked salmon or gravlax. Best eaten the day they are made.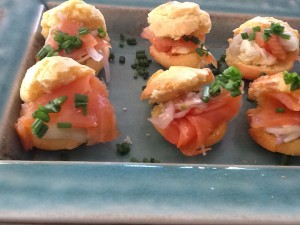 1 cup self-raising flour, sifted
½ tsp baking powder
½ cup polenta
1 tsp salt
1 Tbs sugar
1 egg
1 Tbs olive oil
¾ cup milk
To serve:
250g cream cheese at room temperature
1 Tbs lemon juice or lime juice
2 Tbs snipped chives or chopped dill
6-9 slices smoked salmon or gravlax
Pickled cucumber with red onion (see below)
Preheat oven to 180°C. Mix all ingredients for muffins and use to fill mini-muffin trays. I used silicone ones which don't need greasing. Amount per muffin will depend on the size of the trays. Mine hold about a heaped teaspoon of batter. Bake for 10-15 mins or until golden. Cool.
Mix cream cheese with snipped chives or dill and lemon juice. Cut muffins in half and spread about half a teaspoon of cream cheese on the bottom half, then a small piece of smoked salmon or gravlax and some pickled cucumber and onion, drained and patted dry with paper towel. Spread a little more cream cheese on the lids and stick back onto the muffins.  If preferred leave out the pickled cucumber and onion altogether, or substitute a slice of commercial gherkin or a couple of capers. Arrange on a serving tray and garnish with a few more herbs. Best eaten fresh on the day they are made.
Makes about 30
Pickled Cucumber and Onion
Thinly slice one or two Lebanese cucumbers or half a Telegraph cucumber and layer in a jar with a small, thinly sliced red or white onion. Add enough vinegar and water to cover – about half of each – about a tablespoon of sugar and half to one teaspoon of salt. Shake then marinate for several hours before using. Keeps in the fridge for up to a week.