One of my favourite places to lunch with friends is at the Palette Cafe, located in the Beaver Galleries in Deakin. They are not open in the evening and are closed on Mondays.
In the warmer months my favourite dish was the avocado and smoked salmon salad served on a spicy gazpacho-style tomato sauce. It's so good, I can't tell you how many times I've ordered it! One of my friends always has the brains with crispy bacon, which she says are to die for. I have been there umpteen times and never had a bad meal. We went there for Mother's Day brunch and it was excellent. Anyone who can make scrambled or poached eggs which are as good as the ones you make yourself wins my vote. Hats off chef, Meaghan Pidd.
I recently ate one of Meaghan's delicious lamb pies, served on a bed of sauteed mushrooms, so I decided to make something similar. Eight pies might be too many but you could do as I did – bake four and freeze the rest, then just make half the mushroom mixture. While meat pies are not for those trying to cut down on cholesterol, on a cold winter's day they just hit the spot!
About 7 sheets of ready-rolled bought puff pastry
1 egg, beaten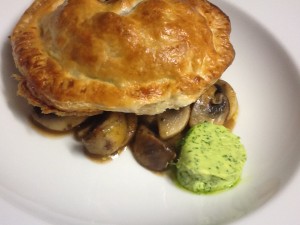 Filling for Pies:
1 Tbs olive oil
25g butter
1 medium onion, finely chopped
2 cloves garlic, crushed
1 kg lean lamb e.g. leg, shoulder (weight after trimming)
1 cup white wine
1 Tbs brandy
1 tsp sugar
1 tsp dried thyme or 1 Tbs fresh, chopped
½ a chicken stock cube
1 Tbs Dijon mustard
salt and freshly ground black pepper to taste
3 heaped tsp cornflour mixed with 2 Tbs water
Mushrooms:
500g button mushrooms
50g butter
¼ cup sherry
1 Tbs Dijon mustard
salt and freshly ground pepper to taste
Herb Butter:
¼ cup parsley sprigs
1 small clove garlic, crushed
125g butter at room temperature
Pinch of salt if using unsalted butter
Heat oil and butter in a large heavy-based pan and add the onion and garlic. Cook gently, stirring often, until soft but not browned. Cut the meat into 2cm cubes and add to the pan. Turn up the heat and cook, stirring continuously, until the meat starts to brown. Add the brandy and continue to stir as it evaporates. Add remaining ingredients apart from cornflour mixture. Simmer until meat is tender. This will depend on the meat, but shouldn't take long. If there's not enough liquid, add a dash of water. When meat is tender add cornflour mixture, stirring until the sauce thickens. Cool, then refrigerate several hours or overnight.
Cut sixteen circles of pastry about 15cm in diameter using a saucer or bowl to cut around. You may only get one per sheet of pastry, then you will need to gather the trimmings, re-roll and cut the rest. Divide meat filling amongst 8 of the circles, leaving 2cm around the edge. The gravy will have thickened, so it can all be used. Dampen edges of pastry circles, place another circle on top. The tops will seem too small, but if you go round squeezing the edges together they will stretch to fit. You will end up with 8 flying saucer shaped pies. Invert them onto a baking tray lined with baking paper. They can be refrigerated at this stage for up to 24 hours, covered, or frozen for up to a month.
Preheat oven to 180°C. Thaw pies if frozen. Brush with beaten egg. Bake for 30 minutes or until golden brown. Serve on a bed of mushrooms with a slice of herb butter on the side.
Mushrooms: wipe mushrooms and cut into quarters, or eighths if they are larger. Heat butter in a non-stick frying pan and cook mushrooms, stirring, until slightly softened. Add sherry and mustard. Cook for a minute or two to evaporate some of the liquid, then season to taste.
Herb Butter: place herbs in food processor and chop very finely. Add butter, garlic and salt and process to mix well. Scrape out onto a piece of plastic wrap. Use the plastic to form butter into a small log about 2cm in diameter, wrap in the plastic wrap and refrigerate for several hours or overnight. It will keep for two weeks in the fridge.
Serves 8