Once or twice a fortnight we like to have a vegetarian dinner.  Matthew has always been a big fan of barley and I recently bought some quinoa, so I thought I would make a vegetarian dish combining these two grains. The result was delicious.
Quinoa (pronounced kin-wah) originated in the Andean regions of Ecuador, Bolivia, Colombia and Peru, where it has been an important staple for 3-4000 years. It's a grain-like crop, but not a member of the grass family, being more closely related to beets and spinach. The recent popularity of quinoa is due to the fact that it's gluten-free and easy to digest. It's also high in protein (14%), magnesium, iron and calcium. There has been some controversy of late over the high price the locals are having to pay for quinoa in South America, the price having gone through the roof due to increased exports.
I know that some of my readers don't eat meat, so this is one for you.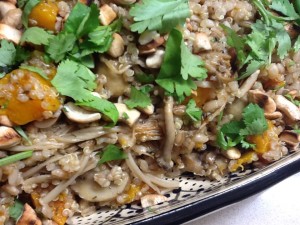 ¾ cup quinoa
¾ cup barley
1/3 cup red wine vinegar
½ cup pine nuts or coarsely chopped cashew nuts, lightly toasted
Chopped fresh parsley or coriander
Pumpkin mix:
5-600g butternut pumpkin, peeled and cut into 2-3cm cubes
1/3 cup olive oil
1 clove garlic, crushed
2 Tbs fresh thyme or 2 tsp dried
½ tsp each cumin, coriander, cayenne pepper
1 tsp salt
Mushroom mix:
500g mixed mushrooms (see note below)
2 Tbs fresh thyme  or 2 tsp dried
2 cloves garlic, chopped
Salt and freshly ground black pepper to taste
½ cup olive oil
Cook quinoa and barley separately in boiling salted water to cover. The barley will take about 40 mins and the quinoa about 10. Add more boiling water as necessary so they don't boil dry. Don't overcook – they should both be "al dente". Rinse and thoroughly drain the grains and place in a bowl.
While grains cook preheat oven to 180C. Mix pumpkin with remaining ingredients. Line an oven tray with baking paper and spread pumpkin mixture over it. Bake for 30 mins at 180 or until cooked and edges start darkening. Clean mushrooms if necessary, tear or cut up and mix with remaining ingredients. Line another oven tray with baking paper and spread mushroom mixture over it.  Bake for 8-10 mins on the shelf under the pumpkin.
Add pumpkin and mushroom mixtures, including any oil and juices, to the cooked grains. Add vinegar, mix gently and check to see if it needs more salt and pepper. Tip into a serving dish or individual bowls. Serve lukewarm or cold, garnished with the toasted nuts and chopped herbs.
Serves 4-6
Note: for the mushroom mix I used 150g of Shimeji, 100g of Enoki (both torn apart) and 250g of button mushrooms (wiped and thickly sliced) – all from Woolworths supermarket. If you can't find fancy mushrooms use all button mushrooms.
Variation: use brown rice instead of barley.