There's a new restaurant in Braddon called Eighty Six which everyone is raving about. I haven't been yet but my son James has already been twice (it's only been open about a month!) and says the food is delicious. He especially enjoyed the Ginger Crème Brulée with Quince Chutney, so as quinces are in season I decided to have a go at making it, based on his detailed description! It was delicious.
I'm looking forward to going to Eighty Six to try the original and see how it compares. Using raw sugar on top is a tip from Heston Blumenthal — he says it caramelises more quickly than refined white sugar. But if you don't have any just use white sugar.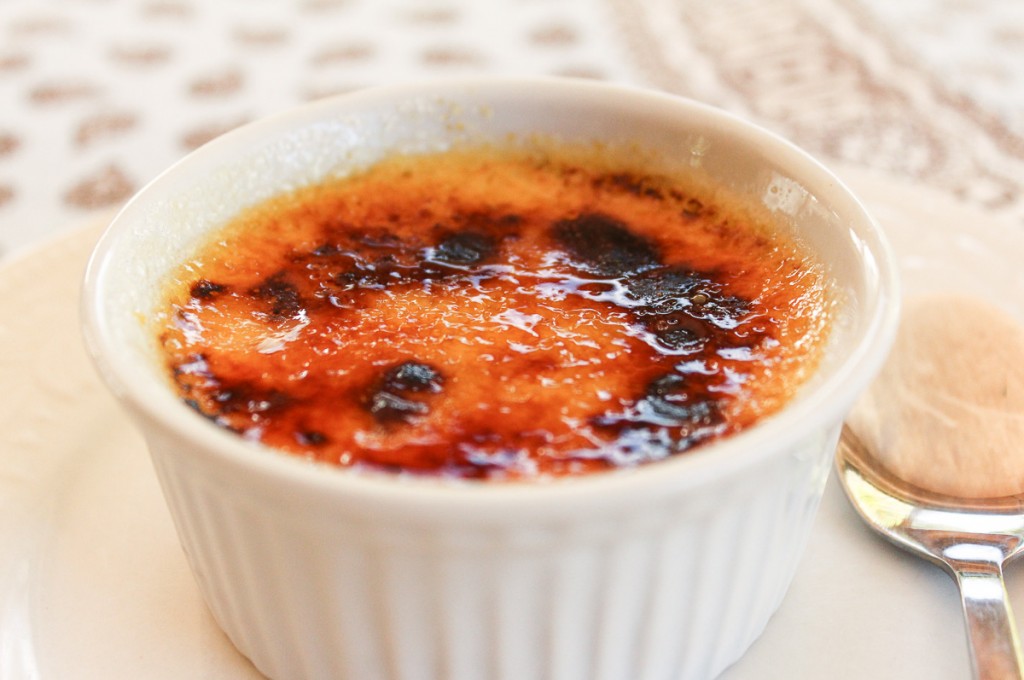 When coring the quinces, core generously to make sure you remove all the fibrous bits in that area. Serve any leftover compote with labneh.
Quince Compote:
6 quinces, peeled cored and cut into 1 cm cubes
⅓ cup honey
½ cup orange juice
1 Tbs grated fresh ginger
5 star anise
1 cinnamon stick
6 cloves
Crème Brulée:
600ml thick cream
6 egg yolks
3 Tbs caster sugar
1 vanilla pod or 1 tsp vanilla essence
2 Tbs grated or finely chopped fresh ginger
To serve:
Raw sugar
Compote: Preheat oven to 150°C. Place the star anise, cinnamon and cloves in a small piece of muslin or a handkerchief and tie into a bundle. Place in a heavy iron casserole dish with remaining ingredients. Stir then cover and bake for one and a half to two hours, or until quince is tender, reddish in colour and juices are thickened. Stir regularly and add a dash more juice if it's getting too dry. When compote is ready it should be like a thick compote, jam or chutney but the pieces of fruit will still be whole. Discard the spices in the bag. Cool then store in the fridge where it will keep for up to a week. It can also be frozen to use when quince are no longer in season.
Crème Brulée: Preheat oven to 140°C. Place 8 small ramekins in a roasting pan or dish and boil the kettle. Place a heaped teaspoon of compote in the bottom of each ramekin and spread it out. Heat cream, vanilla (pod and seeds scraped off or essence) and ginger until boiling point. Meanwhile beat egg yolks and sugar until light and airy. Mix a little of the hot cream into the egg yolk mixture, then pour it all back into the cream and stir quickly to combine. Turn off heat and leave to macerate for 5 minutes. Pour through a sieve into a jug, then fill ramekins almost to the top. You may have enough to fill 9 depending on the size of your dishes.
Add boiling water to come about a third of the way up the sides of the ramekins then bake for 20 mins, or until set but still be a bit wobbly. Ovens vary. Remove from oven, remove ramekins immediately from water bath and cool. Refrigerate, covered for several hours or overnight.
To serve: Spread 2 teaspoons of raw sugar over each custard. Using a cook's blow torch, caramelize the sugar until it melts and turns golden brown. Some restaurants in France serve them straight after torching the tops, so you have the contrast of warm and crunchy with cold. If you like your brulées very cold put them back in the fridge for 30 minutes before serving. After 45 minutes the crunchy top will start to go soggy so don't leave them too long.
Serves 8