Once it's been passed on a few times, the origins of a recipe are often lost. I haven't made this recipe for quite some time, but I remember it was given to me by my dear friend Maggie about 15 years ago. We started primary school together, so we go back a long way!
My friend Karen recently gave me two cook books by British cook book writer and critic Simon Hopkinson, called Roast Chicken and Other Stories and Second Helpings of Roast Chicken. As I was reading the first volume, voilà, there was Maggie's salmon. Hopkinson says it's his version of "a most famous creation by George Perry-Smith, one of the great pioneers who changed the eating habits of an apathetic British public." Perry-Smith was greatly influenced by Elizabeth David and made his name at The Hole in the Wall in Bath, which opened in the late 1950s.
You can either make this in individual parcels or one large one and cut it into slices, which is what I decided to do this time. Hopkinson likes to serve it with a hollandaise sauce, lightened with whipped cream, but concedes that the dish is very rich and just as nice served with a wedge of lemon. The combination of crisp pastry, salmon, ginger and currants is unusual, but delicious. A simple watercress salad and some buttered new potatoes are all that you need to complete the meal. The potatoes took longer to cook than I thought they would, which meant that the salmon got a bit over-cooked as you can see in the photo. Next time I will put the potatoes on earlier!
I served the reheated leftovers with my Cucumber Salad which went extremely well.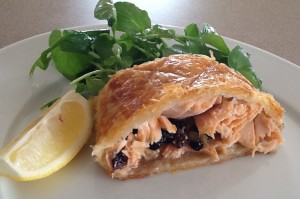 2 Tbs currants
2 Tbs stem ginger in syrup, drained, or glace ginger
110g butter, at room temperature
Salt and freshly ground pepper to taste
A pinch of ground mace or nutmeg
375g puff pastry, bought or home-made
8-900g salmon fillet, skinned and boned
1 egg yolk, beaten
Pour boiling water over the currants and leave to swell for 5-10 minutes, then drain and pat dry on paper towels. Mix currants and finely chopped ginger into butter, then add mace or nutmeg and season to taste. Roll out pastry to a size which is slightly longer and wider than the salmon fillet. Lay the pastry on a lightly oiled baking tray. Spread the butter over the salmon fillet, then fold it over on itself lengthwise. Place on pastry, to one side. Fold over the pastry and seal all the way around. Press with the tines of a fork then trim off any excess to give a neat edge. Salmon can be prepared ahead to this stage and kept, loosely covered, in the fridge for up to several hours.
Pre-heat oven to 200°C. Brush salmon with egg yolk then bake for 20-30 minutes or until golden brown – you don't want to overcook the salmon. Slice and serve with a wedge of lemon, lightly dressed watercress salad and boiled new potatoes, dressed with a knob of butter and some finely chopped parsley.
Serves 6