You may have noticed that Café Cat has been quiet for the past 3 weeks while I was on a business trip to Chile. This involved catching up with lots of friends – rather too many lunches, dinners and pisco sours – the Chilean national tipple. But life's too short to avoid occasional periods of over-indulgence!
For some reason jet-lag is always better coming back from Chile to Australia than it is going. Even so, in the first few days after returning from somewhere which is 14 hours behind AEST, I am not at my most creative. So we've been eating quick and easy, tried and tested dishes such as this one for Sticky Chilli Chicken. The original recipe came from Donna Hay – I've just cut down a bit on the sugar and the soy sauce. It may sound like a lot of chillies, but the end result is not very hot. Any leftovers are nice cold.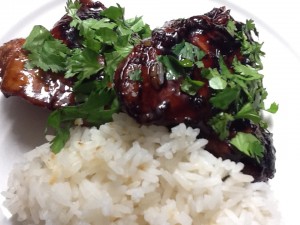 1.5kg chicken pieces (I use thighs)
Chilli Sauce:
3 red chillies, seeded and finely chopped
1 Tbs grated ginger
2 cups water
1/3 cup soy sauce
1/3 cup sugar
½ cup vinegar
½ cup chopped coriander
Place all ingredients for sauce except the coriander in a deep frying pan which has a lid and simmer for 3 minutes. I use an old-fashioned electric frypan. Trim chicken pieces and remove skin if liked. Add chicken to pan, cover and cook for half an hour, turning from time to time. Remove lid and continue to cook for 20-25 minutes, turning chicken from time to time until the sauce has become sticky and the chicken is well coated. Watch carefully towards the end as you don't want the sauce to completely dry up and burn. Add coriander and serve with steamed rice.
Serves 4