As an Ambassador's wife – an unpaid job I enjoyed for many years – I made food for more cocktail parties than I can remember.
Working on 10 per person, I used to reckon that a two hour cocktail party for 300 guests needed 3000 canapes. Some people eat less, but others definitely eat more and it's always preferable to have a few left over than to run out. The trick is to start a week or two before the event and freeze anything which freezes well, which covers pretty much anything using pastry, such as mini quiches and empanadas. That just leaves the things that don't freeze well – prawns, smoked salmon and so on – to be made on the day of the party. A chest freezer is essential in order to do this on a grand scale. I used to keep a running tally of how many items we had made so far – 200 of this, 300 of that – until the grand total came to however many we needed.
Nowadays our parties are much more normal in size, but I still like to plan ahead. These little quiches can be frozen and baked when needed so they are perfect. You can use various fillings, but leek or onion, spinach and feta and quiches lorraine are always popular.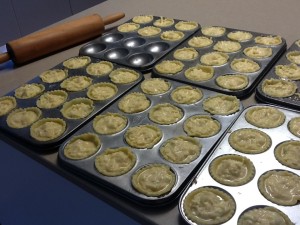 I've just made a few trays to have on hand over  the Christmas-New Year period and you can see them in the photo, all ready to go into the freezer. Having collected them from second hand shops over the years, I have enough patty tins to make about 200 mini quiches. I also have some smaller tins, which produce a one bite, elegant little morsel, but they're very fiddly to make so I usually make these bigger ones, especially now that I have officially retired from diplomacy!
Shortcrust Pastry (make twice):
250g plain flour
125g butter
good pinch salt
3-4 Tbs cold water
Filling:
6 leeks, washed trimmed and chopped
50g butter
4 eggs
300 ml cream
150 ml milk
Salt and freshly ground black pepper
¼ tsp grated nutmeg
2 cups grated cheese (gruyere is best, but cheddar will do)
Pastry: Place flour, salt and butter in food processor and process until it looks like breadcrumbs. With the motor running gradually add about 3 Tbs cold water, stopping the motor as soon as the mixture starts to form a ball. Tip out, form into a ball, wrap in plastic wrap and refrigerate until needed. Can be refrigerated for 3-4 days or frozen for a month or two. For this recipe you will need to make this recipe twice.
Filling: in a large frying pan melt butter and add leeks. Fry gently for 15 minutes, stirring frequently, or until soft. Do not allow to brown. Cool. In a large bowl beat eggs with cream, milk, nutmeg, salt and pepper. Add cooked leeks and grated cheese and mix well.
Roll out pastry thinly using a little plain flour to prevent sticking and cut circles to fit patty tins. Very lightly grease the tins, then line with pastry circles. Fill with leek mixture, level with the top of the pastry. Freeze tins uncovered until frozen, then cover each tin with a supermarket bag. Once frozen the plastic bags won't stick to the quiches, so you can store them stacked one on top of the other.
To serve, remove plastic bag and bake from frozen for 30-40 mins at 180°C. If not frozen they will take 20-30 mins. Cool for 5-10 minutes, then remove from tins with a knife and serve warm.
Variation: for Mini Onion Quiches use 6 large onions instead of leeks
Makes 65-70 mini quiches