This a perfect last minute dessert as it only takes 10 minutes to make and about an hour to set. The recipe came from Matthew's bachelor survival cook book, so it goes back a long way. There's actually no cheese in the recipe, but if you make it in a spring-form pan it looks like a cheesecake.
I often make it in half cup glasses as shown in the photo. Put them all in a round quiche dish or similar and cover with plastic wrap (or a shower cap which I find very useful in the kitchen!) and they will last several days in the fridge.  Instead of the crunchy topping, top with a few fresh berries. Or both.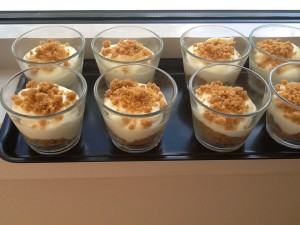 200g plain sweet biscuits (I used Ginger Nuts)
125g butter, melted
1 can condensed milk
Grated rind 4 large lemons
½ cup lemon juice
300ml cream, whipped
Fresh raspberries, blueberries or strawberries (optional)
Whiz biscuits in food processor until you have crumbs. Melt butter in a medium sized bowl in microwave. Add biscuit crumbs and mix well, then divide between about 16 half cup glasses or ramekins. Save about 4 Tbs of crumbs for the topping, unless you are going to decorate with just berries. Alternatively press crumbs over the base of a 20cm spring-form pan.
In a clean bowl, thoroughly mix condensed milk, lemon juice and rind, then fold in the whipped cream. Divide filling among the glasses or spread into spring-form pan. Refrigerate for at least an hour and serve decorated with the remaining crumbs or some berries, or both. If making in a spring-form pan it's best to refrigerate for several hours or overnight so it cuts nicely.
Serves 16
Note: other versions of this no-bake cheesecake use 250g cream cheese instead of the cream. In this case mix the cream cheese (at room temp) with the condensed milk, lemon juice and rind in a food processor and omit the whipped cream.