This recipe is adapted from one called Narrabri Cheesecake which Matthew used to make before we met. Part of his bachelor repertoire, guaranteed to impress the girls. It's quite rich and you will get at least twelve servings, enough to serve a crowd.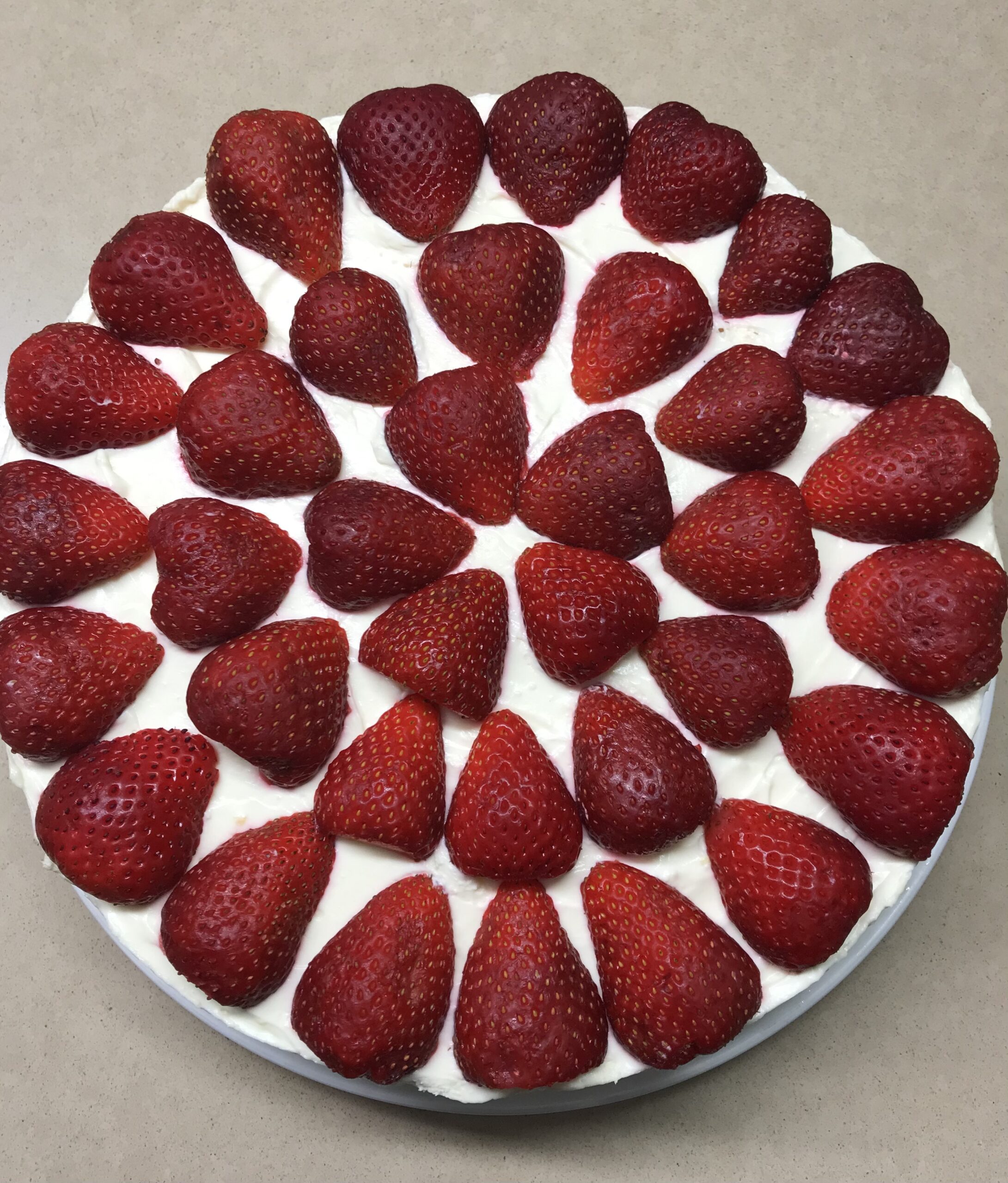 Crust:
150g plain sweet biscuits e.g. Digestives, Nice, Marie
100g butter, melted
Filling:
300ml whipping cream
750g cream cheese, at room temperature
1 can condensed milk
1/3 cup lemon juice
Grated rind of one large lemon or two smaller ones
Topping:
250g strawberries, halved
Strawberry Sauce:
250g strawberries, diced
1-2 Tbs sugar, to taste
1 Tbs lemon juice
Butter a 22-24 cm (9-10 inch) springform cake pan and line the bottom with a circle of baking paper. Whizz the biscuits in a food processor until you have fine crumbs. Mix with the melted butter, then press evenly over the base of the cake pan. Refrigerate while you make the filling.
Using a stand mixer (my preference with this recipe) or hand beaters, whip the cream until soft peaks form. Scrape out into another bowl. No need to wash the first bowl – just add the cream cheese and mix until smooth. Add the condensed milk and lastly the lemon juice and rind. Use a spatula to scrape down the mixture stuck to the sides of the bowl, then mix a bit more. Fold through the whipped cream, scrape into the cake pan and smooth the top. Cover and refrigerate overnight. Clean and sort the strawberries, keeping the best ones to decorate and the rest for the sauce.
Strawberry Sauce: place all ingredients in a saucepan. Simmer for about 5-10 minutes then push through a sieve, discarding what won't go through. Keep refrigerated.
Arrange halved strawberries over the top of the cheesecake. Run a knife with a thin blade around the sides of the cheesecake, undo the clip and remove. If you like, run a knife under the base of the cheesecake, under the paper, so you can remove the base. If preferred, just leave the base on. Slice cheesecake using a large knife dipped in hot water. Serve sauce (not shown in photo) separately in a small jug.
Serves  12-16
Variations: use other berries.