Our Polish friend Peter was coming for dinner so I decided to make something for dessert which would remind him of his homeland. After searching online I came across Mazurek, a nutty cake, not quite as dense as shortbread, covered with chocolate icing and nuts.
There are as many recipes for Mazurek as I've had hot dinners, so having found a version for which I had the ingredients – essential when you don't want to go shopping – I adjusted it slightly and came up with this.
Peter explained that Mazurek is traditionally served at Easter so my timing was perfect. He hadn't tasted one for many years and was delighted to take home the leftovers.
Serve for afternoon tea or as dessert, with a dollop of cream. Scrumptious.
250g butter at room temperature
½ cup sugar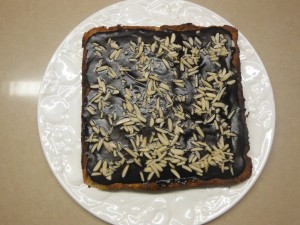 1 egg
1½ cups almond meal (see note below)
1 cup plain flour
pinch salt
¼ tsp almond essence
¼ cup cream or sour cream
Chocolate Icing:
½ cup dark chocolate chips or chocolate squares
1 Tbs corn (glucose) syrup
2 Tbs cream
2 Tbs butter
To decorate:
¼ cup flaked or slivered blanched almonds
Preheat oven to 200ºC. Grease a 9″ (22cm) square cake pan and line with non-stick baking paper. In a food processor or with electric beaters mix butter and sugar until light and fluffy. Add egg, salt and almond essence and mix well. Add flour and almond meal and mix well. Scrape into cake pan and spread out evenly. Bake for 20 mins or until light golden – don't overcook or cake will be dry. Cool completely in tin.
Remove cake and place on a flat serving plate. Place chocolate, corn/glucose syrup, cream and butter in a small bowl over simmering water and when melted stir till smooth. Cool a little then spread icing over cake and decorate with almonds.
Serves about 16
Note: make your own almond meal by blitzing blanched or unblanched almonds in food processor until fine.
Variations: use hazelnuts, walnuts or pecans instead of almonds.