On the menu of a restaurant in Geneva where we once ate Steak Tartare was translated as Raw Meat. Doesn't quite have the same ring, does it?
SBS Television's French Food Safari with Maeve O'Meara and chef Guillaume Brahimi recently featured his Steak Tartare served with Pommes Gaufrettes. Now when it comes to kitchen gadgets I have to confess that I'm pretty well stocked, but I didn't have the special mandoline cutter you need to make these lacey potato chips. So of course I simply had to get one. The Børner Wave Waffle Cutter from Germany cost just $20 including postage when I ordered it online. I couldn't wait for it to arrive.
Matthew is very fond of Steak Tartare and I don't mind it once in a while, so I decided to try my new gadget last weekend. Guillaume's Tartare recipe includes tomato ketchup, but I prefer to use olive oil and lemon juice as I think ketchup can be a bit overpowering. The photo makes it looks a bit like an uncooked burger. But when all's said and done, that's what it is – raw meat!
Pommes Gaufrettes:
2 medium potatoes, peeled
Vegetable oil to fry (see note)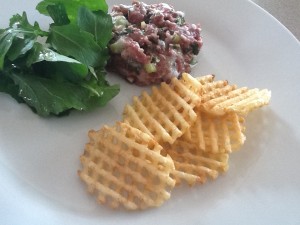 Tartare:
320g good quality lean beef, trimmed (see note)
2 tsp capers, chopped
2 Tbs finely diced cornichons or gherkins
2 shallots or spring onions, finely diced
2 Tbs snipped chives
2 Tbs finely chopped parsley
1-2 tsp Dijon mustard
¼ cup extra virgin olive oil
3 tsp Worcestershire sauce
Dash of Tabasco sauce or a little wasabi paste
1 tsp cognac or brandy
1 egg yolk
Salt, freshly ground black pepper and lemon juice, to taste
To serve:
A lightly dressed green salad (I used rocket)
Slice potatoes with a waffle cutter or an ordinary mandoline and place in cold water to remove starch. Drain and pat dry with paper towels. Heat oil and fry potatoes in batches, until crisp and golden, then drain on paper towels. The oil needs to be very hot so they cook quickly. Test with one first.
Very finely dice the beef by hand. Mix all ingredients for Tartare. Season with salt, pepper and lemon juice to taste. Form into quenelle shapes with two spoons, or use a stacking ring or biscuit cutter to form into a neat round shape on 4 serving plates.
Garnish with Pommes Gaufrettes and a small green salad.
Serves 4
Notes:
Meat should be very fresh but it doesn't have to be fillet. So long as it's lean and very finely diced with a very sharp knife you can use topside or round steak.
You don't need a deep fat fryer to cook the potatoes. I used about 2cm of oil in a medium sized frying pan and cooked them in two batches.
If preferred serve the Tartare with garlicky bread croutons made from a French loaf.