Many moons ago I was in Spain for the first time on a school exchange when my host family took me to an establishment which served churros and nothing else. The queue of people waiting to be seated went out the door and halfway up the block. Always a promising sign.
We eventually sat down to a huge plate of warm crispy churros rolled in cinnamon sugar which was placed in the middle of the table. We each had a mug of very thick hot chocolate to dip the churros into. And I mean thick – you could almost stand your spoon up in it! I was hooked.
Like eclairs and profiteroles, churros are made from choux pastry, but instead of cooking them in the oven they're fried in hot oil, like doughnuts. I have a special gadget for pushing the dough through, but a piping bag with a large star nozzle works just as well.
Instead of a mug of thick hot chocolate serve the churros with a simple dipping sauce made from cream and chocolate. For a more grown up combination try them with salted caramel sauce. Either way they are delicious.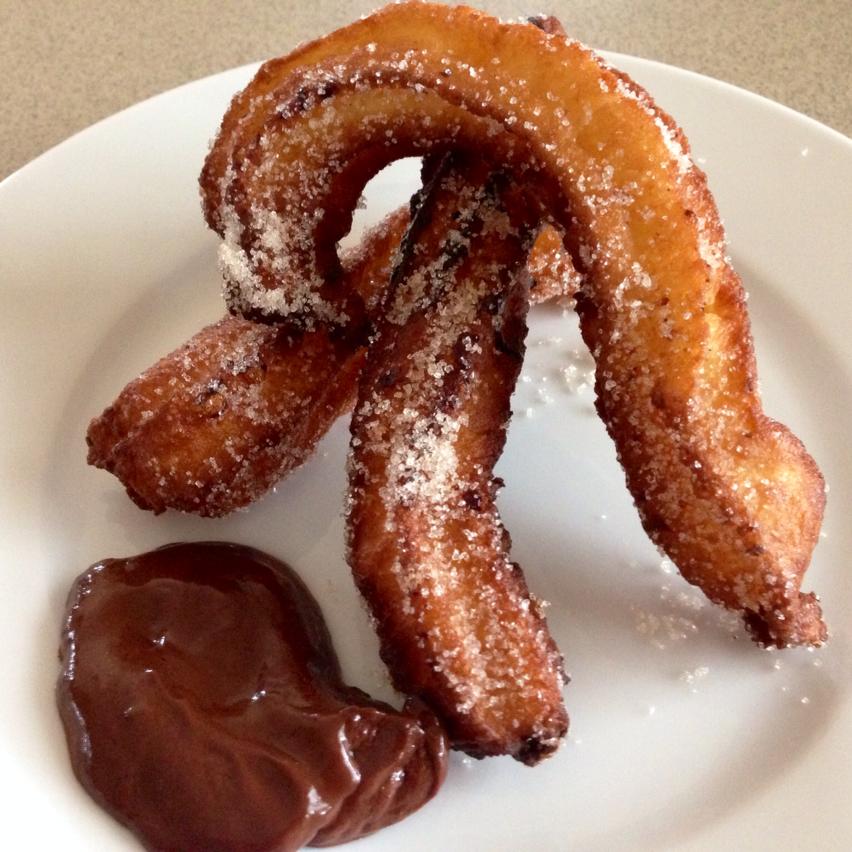 1 cup milk
75g unsalted butter
¾ cup sugar
1¾ cups plain flour, sifted
1 tsp baking powder
2 eggs, beaten
Vegetable oil for frying
sugar and cinnamon for rolling
Chocolate sauce:
1 cup thick cream
125g chocolate (milk or dark)
Salted Caramel Sauce:
½ cup sugar
½ cup cream
60g butter
½ tsp salt
In a non-stick saucepan heat milk, butter and sugar until boiling point is reached. Remove from the heat and add the flour and baking powder, all in one go. Beat well with a wooden spoon until lump-free and mixture leaves the sides of the pan clean. Return to the heat and cook, stirring for 2 mins. Remove from heat and add the beaten eggs gradually, beating well after each addition. Cool.
Heat oil in a large deep frying pan or deep fat fryer. It should be at least 4cm deep. Place some of the mixture in a piping bag with a star nozzle or in a special churros gadget. When oil is hot pipe in the churros a few at a time, using a knife to cut them off when they are 10-15cm long. Cook, turning once, till golden on both sides, then remove from oil and toss in a mixture of sugar and cinnamon. Serve warm with chocolate or salted caramel sauce.
Chocolate Sauce: heat cream until boiling point is reached then remove from heat. Add chocolate broken into squares and stir until melted. Cool a bit and serve warm.
Salted Caramel Sauce: melt sugar in a small heavy-based pan until melted and dark caramel colour, swirling the pan from time to time. Add cream and butter and mix until smooth. Cool a bit and serve warm. Can be reheated.
Serves 6-8