Where would we be without the humble onion? White, brown, red, cooked or raw, pickled or fried, roasted or stewed. They're an integral part of cooking around the world.
Onion jam is a delicious way to add some sweet onion flavour to all sorts of things. Use it in toasted sandwiches, on bruschettas, spread over the base of a savoury tart or pizza or served with a grilled steak.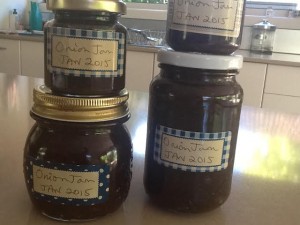 2 kg onions
½ cup olive oil
375ml balsamic vinegar
2/3 cup dark brown sugar, firmly packed
½ to ¾ tsp salt, to taste
2 tsp  dried thyme leaves or 4 tsp chopped fresh ones
Peel and slice onions thinly. This takes no time at all with a slicing attachment on a food processor, but you can do it by hand. Heat oil in a large heavy-bottomed pan or preserving pan. Add onions and cook, stirring, for 5 mins or until they start to soften. Cover and cook for about 45 mins over medium heat, stirring from time to time.
Remove lid and continue to cook for another 30 mins, stirring from time to time. Add sugar and balsamic vinegar, stir to dissolve sugar, then bring to the boil and simmer for a further 30 mins. Add thyme and salt and cook for about 10 mins, stirring often, until you have a thick, slightly sticky jam-like consistency.
Place 3-4 standard jam jars or 6-8 small ones in the microwave, without their lids and zap for 2 mins on High. Fill jars with the onion jam then push a knife blade in, right to the bottom, all the way round, to remove any air. Seal with lids while hot. Will keep for several months in a dark cupboard. Refrigerate after opening.
Makes 4-8 jars depending on size