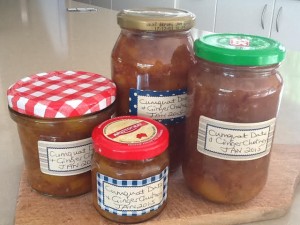 Making Tomato Chutney was on the agenda this weekend. We were onto the last jar and running out is considered grounds for divorce in our house. A trip to the fruit and vegetable market in the last hour before closing provided some lovely ripe tomatoes at a bargain price. Matthew always helps with the chopping, so it didn't take long to get all the ingredients in the pan.
We have a cumquat bush in the garden which is well over 2 metres high. I picked several kilos of fruit a few months back and made them into marmalade as I do every year. The few ripe cumquats that I had missed were starting to fall to the ground as the new season fruit appeared. So while I was in the preserving mood I decided to pick them and see if there were enough to make something. With just one kilo and a few ingredients from the pantry I came up with this tangy spicy chutney which tastes quite different to the tomato one.
The dates add consistency and a delicious caramel flavour. Serve with ham, cold pork, duck or chicken.
1 kg ripe cumquats
1 cup fresh orange juice
2 Tbs lemon juice
2-3 Tbs grated fresh ginger
2 cups sugar
2 medium to large onions, peeled and finely chopped
1 cup chopped dates
1 tsp salt
Spices:
12 cardamom pods
1 cinnamon stick, broken in two
3 star anise
1-2 dried birds-eye chillies, broken in two
Cut cumquats into halves or quarters, depending on size and remove seeds. Place in a large heavy-bottomed pan or preserving pan with remaining ingredients. Place spices in a piece of muslin and tie firmly into a small bundle with string, then add to the pot. An old cotton handkerchief or a piece of any thin cotton fabric will do.
Bring to the boil then simmer for about an hour, stirring often, until thick. Remove spice bag, cool it a bit, then remove any bits of chutney stuck to it and return them to the pot. Discard spices, wash out the cloth and keep for next time.
Place 4-5 empty jam jars without their lids in the microwave and zap on High for 2 mins. Fill with the hot chutney using a jug and seal firmly with the lids. Label then store in a dark cupboard where it will keep for several months. Refrigerate after opening.
Makes 4-5 jars