Our cleaning lady in Israel was also called Linda. My Hebrew was pretty basic, but she spoke Italian and I speak Spanish so we communicated in a weird combination of all three. A certain amount was lost in translation, but we managed.
When Linda's son had his Bar Mitzvah she invited us to the celebration. We got terribly lost on the way and as we pulled up at the address we had been given – a huge building in the centre of town – we were feeling somewhat frazzled. The sound of a big party was wafting down the stairs so we ran up to find a room packed with over 200 guests seated at tables for 10. Linda was nowhere to be seen, so not wanting to make a point of having arrived late we spotted a couple of empty seats in the far corner and sat down. We were onto our second glass of wine and having a jolly time when suddenly the band started to play, everyone stood up and in walked the bride and groom. "Holy Dooley" said Matthew, "wrong party."
It was impossible to leave without shaking hands with the happy couple as they were blocking the only exit. We left them looking somewhat bemused and no doubt thinking, "Who invited them?"  We eventually found our party at the other end of the building.
Linda gave me this easy recipe for a Mediterranean all in one fish dish which uses feta cheese to thicken the sauce. If you have more mouths to feed the onions and potatoes "pad it out", as my mother would say, but I often leave one or both of them out. If preferred, serve potatoes, rice or Israeli couscous as a side dish.
This recipe makes a quick midweek family dinner and is easy to halve – as I've done in the photo. In fact I don't usually measure the ingredients, just do it by eye. It looks very colourful when you bring it to the table making it perfect for casual entertaining. It's just as delicious without the prawns.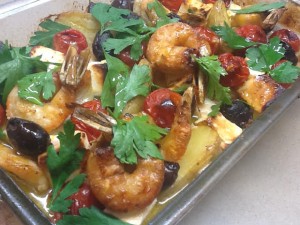 1.5 kg firm white fish fillets
Or 1kg fish and 500g peeled green prawns (see note below)
3-4 cloves garlic, crushed
Salt and freshly ground black pepper, to taste
300g feta cheese
300g black olives, stoned
12-15 baby onions (optional)
12-15 peeled baby potatoes (optional)
250g cherry tomatoes
½ cup olive oil
½ cup white wine or sherry
To serve:
3-4 Tbs chopped parsley, preferably flat-leafed
Extra Virgin Olive Oil
Preheat oven to 200°C . Cut fish and feta into 2-3 cm chunks. If using, cook onions and potatoes separately in boiling water for about 10 minutes, or until almost cooked.
Mix fish (and prawns) with salt, pepper and crushed garlic then spread over a greased lasagne-type dish. Evenly distribute the feta, olives and tomatoes, tucking them in between to make a pretty picture. If using, add the onions and potatoes. Move the prawns, if using, towards the top, so you can see them better. Drizzle with the wine or sherry and then the oil. Recipe can be made ahead to this stage and kept refrigerated for up to a few hours.
Bake for 30 minutes or until fish is cooked. Sprinkle with chopped parsley, drizzle with a little more oil and serve with crusty bread to mop up the juices.
Serves 6-8
Note: Potatoes and onions can be omitted. Olive stones can be left in if you are in a hurry and don't have any pitted ones. Use green ones or pimento-stuffed if that's all you have. If you refrigerated the dish before baking it will take about 10 minutes more to cook. If using green (raw) prawns add them at the beginning. If using cooked prawns arrange them over the top of the dish about 5 minutes before it's ready.