You have to add quite a bit of sugar to rhubarb to make it palatable. But a friend told me recently that she cooks it with a little salt instead of sugar and eats it with Greek yoghurt.
So as we had rhubarb in the garden I decided to experiment. I mixed all the rhubarb pieces with a little melted butter (or you could use olive oil) then rolled half in some raw sugar and arranged them on a baking sheet lined with baking paper. I then added a little salt to the remaining rhubarb, mixed it well and arranged the sticks on the other half of the baking sheet. I baked them in a hot oven for about 15 mins or until they were "al dente".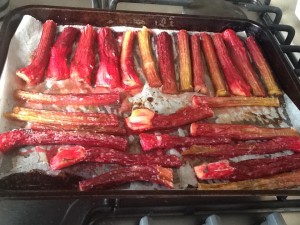 The sweet ones were, as you would expect, quite sweet and delicious served with meringues and whipped cream. Interestingly the salty ones were not unsweet – the salt having brought out the natural sweetness of the fruit. Serve for breakfast or dessert with thick Greek yoghurt and a drizzle of honey if you need more sweetness. They would also go well as a garnish for duck. chicken or pork.
My third experiment was to cook the rhubarb with some fruit cordial such as Ribena – an idea I read somewhere once and filed away in my head. The result was a delicious ruby red compote. Rhubarb and strawberries go well together, so I used the compote to make a tasty variation on a traditional rhubarb crumble.
500g rhubarb

½ cup blackcurrant or raspberry cordial (see note)
1 punnet strawberries
125g butter
4 Tbs brown sugar
4 Tbs self-raising flour
4 Tbs rolled oats
4 Tbs slivered or flaked almonds
1 tsp vanilla essence
Wash and trim rhubarb and cut into 2- 3cm lengths. Place in a bowl, add the cordial and mix. Cover and microwave for 5 mins or until cooked but not mushy. Meanwhile wash and hull strawberries and cut them into quarters. Grease a small round or oblong pudding dish. Mix strawberries with rhubarb and spread over base. Melt butter then mix in sugar, flour, oats, nuts and vanilla. Spoon evenly over the fruit, using a fork to close any gaps and give an even covering. Can be made ahead to this stage.
Pre-heat oven to 180°C. Bake for 25 mins or until golden brown. Serve warm with vanilla ice cream, cream or labneh flavoured with a little icing sugar and a few drops of vanilla essence.
Serves 4-6
Notes: if preferred double the rolled oats and leave out the nuts or double the nuts and leave out the oats. Instead of using fruit cordial to cook the rhubarb, use a little water and sugar to taste.