I was inspired to make these tasty little morsels after watching a cooking show on TV where one of the contestants made fried wontons.
I  came up with this recipe by combining ingredients from two I found online. It made 26 so I served half one night, fried and half two nights later, steamed. The fried ones were nicer but the steamed ones were probably healthier. I've included a photo of both. Wonton wrappers are available in many supermarkets and all Asian grocery stores.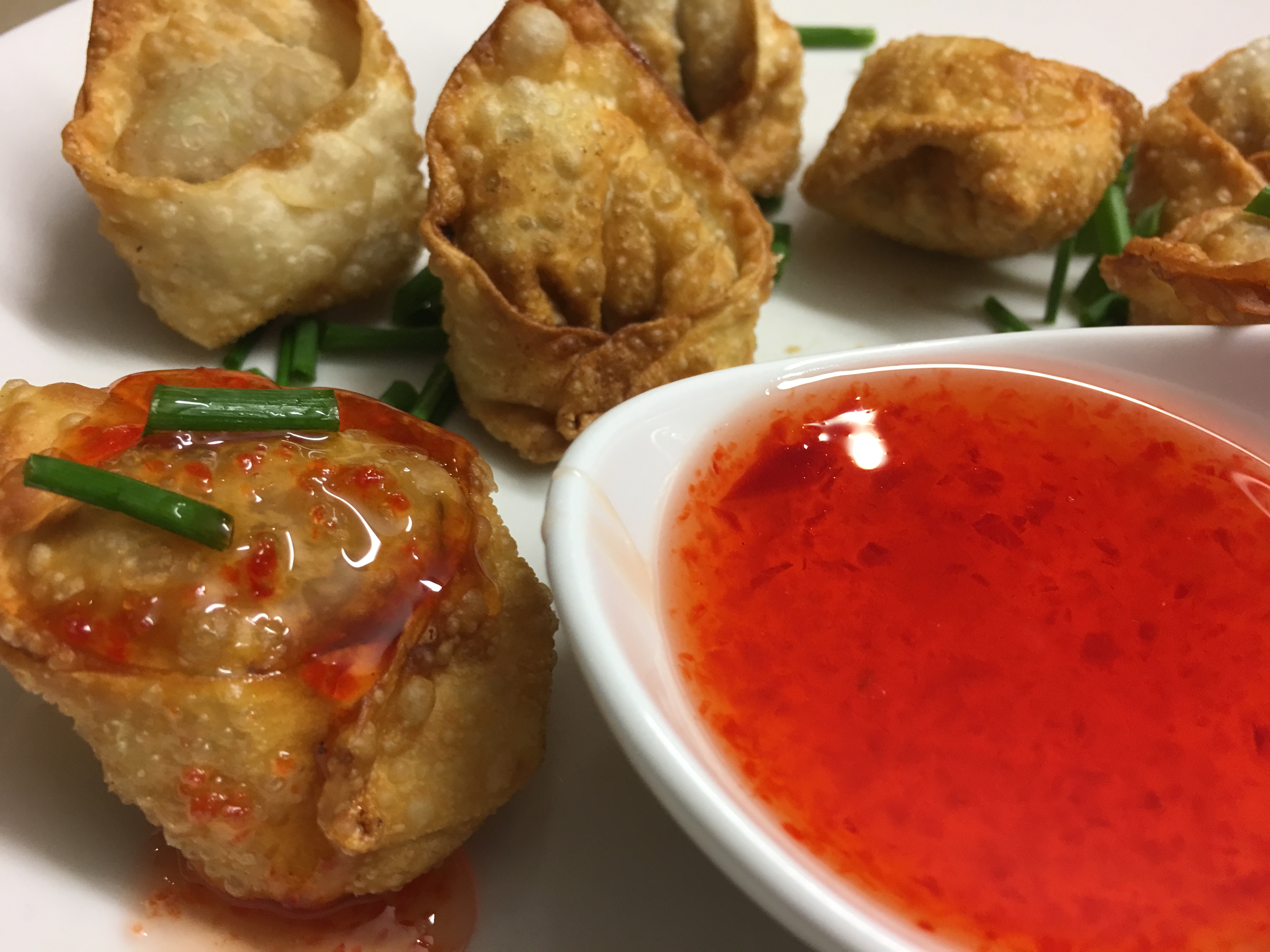 200g pork mince (or pork/veal mince)
100g peeled cooked or raw prawn meat, chopped
2 cloves garlic, crushed
1 tsp grated fresh ginger
1 Tbs hoisin or oyster sauce
½ tsp Chinese five spice
2 spring onions, finely chopped
Salt and pepper to taste
1 egg white
1 packet wonton wrappers (you will need 24-26)
Vegetable oil for frying
To serve:
Sweet chilli sauce
Snipped chives or sliced spring onions
Mix the mince, prawn meat, garlic, ginger, hoisin or oyster sauce, five spice and spring onions and season. Place a heaped teaspoon of filling on each wonton wrapper. Using your finger put a little egg white along two adjacent edges, then seal the wonton into a triangle. Bring two edges together and overlap then press to seal, as shown in photo.
You can fry the wontons in a deep fat fryer or in a wok where you will need the oil to be a minimum of 5cm deep. Or they can be steamed. If frying cook, a few at a time, for 1-2 mins or until cooked through and golden. Drain on paper towel. If steaming they will take 5-6 minutes. Serve with sweet chilli sauce for dipping and garnish with the snipped chives and a vegetable salad.
Makes 24-26