This is an adaptation of a recipe I've had for decades. To make it gluten and dairy-free, for a friend who can't eat either and who was coming for afternoon tea, I used oil instead of butter and walnut flour instead of flour. It was just as good.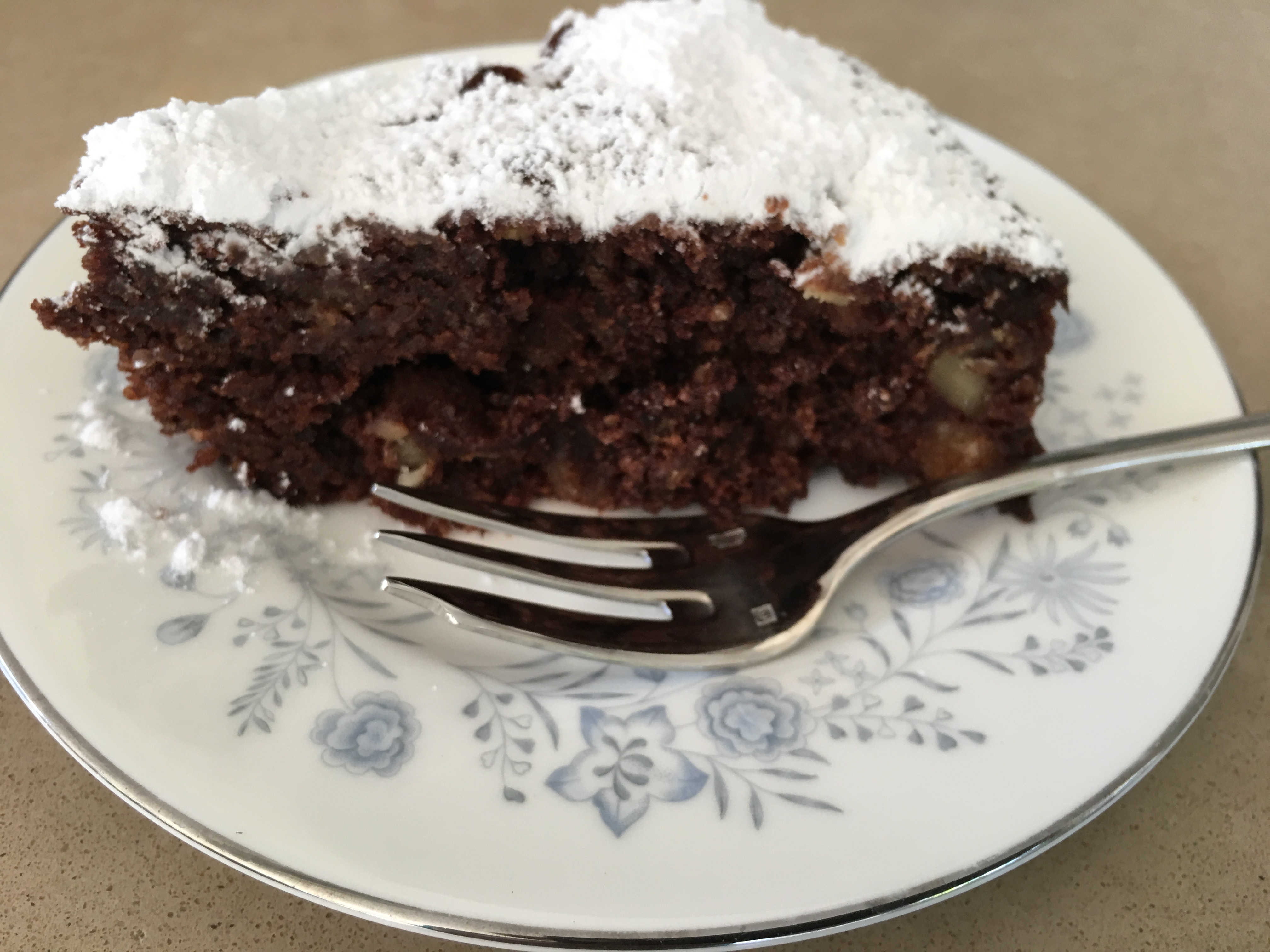 4 eggs
¾ cup sugar
½ cup vegetable or coconut oil
2 Tbs cocoa
4 tsp baking powder
1½ cups walnut flour (see note below)
2 generous cups coarsely chopped walnuts
Syrup:
½ cup sugar
½ cup water
2 Tbs rum or brandy (optional)
To serve:
2-3 Tbs icing sugar
Fresh berries (optional)
Preheat oven to 180°C. Place eggs and sugar in a large bowl and whisk with electric beaters until thick and pale. Whisk in the oil, then fold in the sifted cocoa and baking powder, the nut flour and the chopped walnuts.
Scrape into a round 25cm (9″) cake tin, greased and bottom lined with paper. Or use a silicone pan which you don't need to grease or line. Bake for 25-30 mins or until firm to touch when pressed in the middle, but don't overcook. Spoon the hot syrup evenly over the hot cake then leave to cool in the tin. Remove cake from tin and dust with icing sugar just before serving. Keeps for 3-4 days in a sealed container.
Syrup: place sugar and water in a saucepan. Heat till sugar has dissolved, then boil for a minute or two. Add rum or brandy.
Note: make walnut flour by blitzing walnuts in food processor until fine. Measure after blitzing.
Variations: use pecan nuts, almonds, hazelnuts, macadamias or pine nuts instead of walnuts. This recipe is a good way to use up leftover small amounts of various nuts.