This delicious recipe was given to me by my daughter Catherine. She and her husband love raw fish and meat dishes, so they eat a lot of ceviche and carpaccio. If you've never eaten raw fish, this is a good way to start as it honestly doesn't taste raw. The recipe serves 2 as a starter, but it's easy to multiply the ingredients to serve 4 or 8. It's also very quick to make.
The black sesame seeds add a nice colour contrast and the fried shallots add a bit of crunch. The fried shallots do make the photo look a bit dark, but they make a great garnish for all kinds of savoury recipes. If preferred leave them out or garnish with some chopped herbs such as coriander or chives.
If I had to describe this dish I would say it's like a Japanese prawn cocktail, made with raw salmon instead of prawns!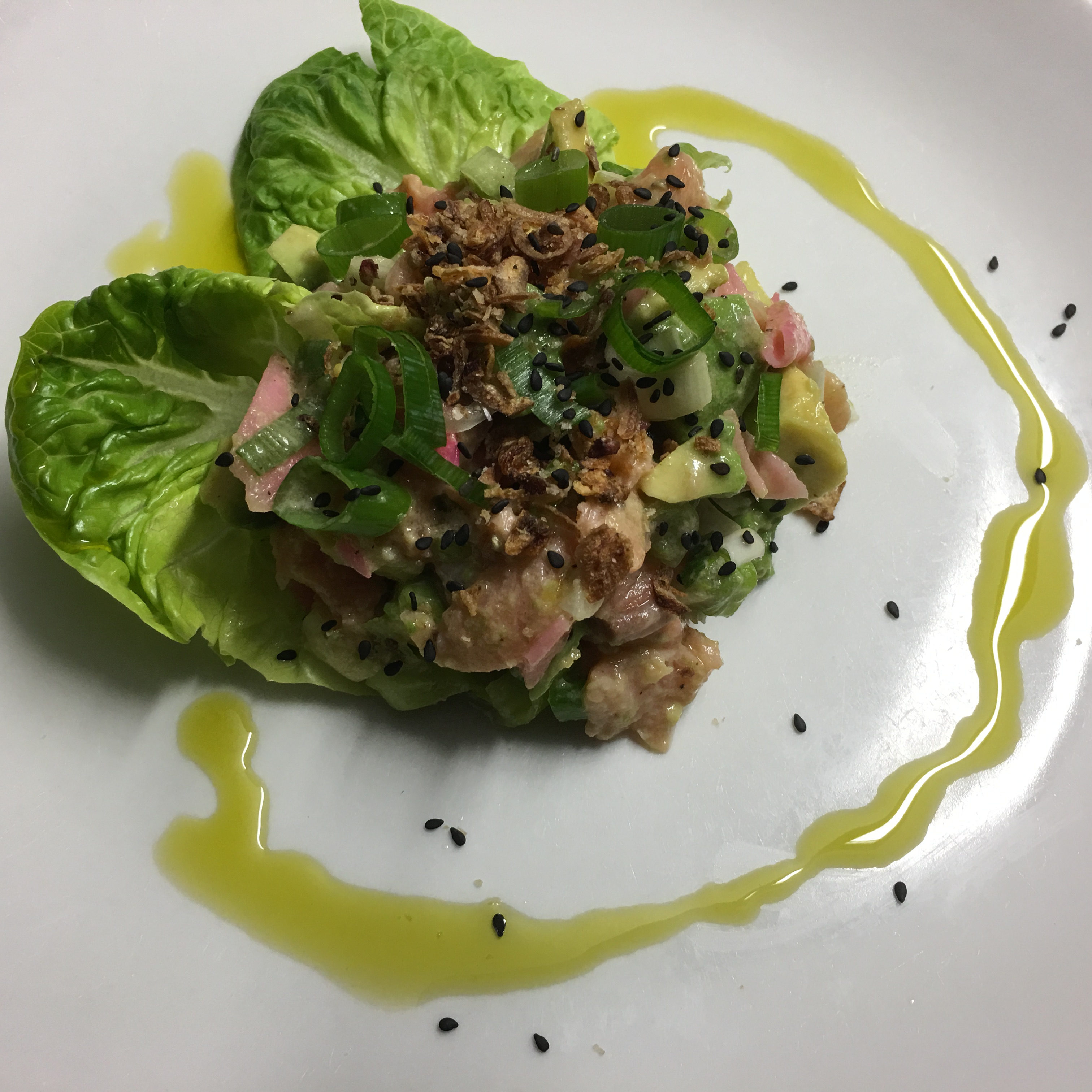 1 portion salmon (about 180g)
1 small or half a large avocado, cubed
Zest and juice of ½ lime
2 tsp sesame oil*
2 tsp Mirin
1 Tbs pickled ginger, finely chopped*
1 spring onion, thinly sliced
1 Tbs Kenko Creamy Sesame Dressing*
Salt and freshly ground black pepper, to taste
To garnish:
Black sesame seeds*
Fried shallots*
Lettuce leaves
Olive oil
Remove skin and any bones from salmon then cut into small cubes. Mix with remaining ingredients. Taste and see if it needs a little more lime juice or sesame oil.
Serve immediately on lettuce leaves, garnished with black sesame seeds, fried shallots and a drizzle of oil.
Serves 2
* sold in Asian supermarkets. For the Kenko Dressing you will need to find a shop that sells Japanese ingredients. If you can't find it substitute mayonnaise. Not quite the same but it will do.