When our kids were 5, 8 and 11 we took long service leave, rented a chalet in the French Alps and skied for three months.
Timewise it fitted in perfectly between a posting in Malaysia and a posting in South Africa. We bought a car in London after spending Xmas with my family and drove over, packed to the gunnels with ski gear. Our chalet was on the outskirts of Megève – large and comfortable with an open fire.
The kids had left school in Kuala Lumpur just before Christmas and  were due to start in Pretoria after Easter. We were worried they might get behind, but two adults playing schools with three children for a couple of hours each day meant they got ahead.
They had never been on skis, but by the time we left, they skied like demons, leaving us behind. When we were snowed in for a few days we played Monopoly, Scrabble and Mastermind. When large blocks of ice fell off the roof the kids built an igloo, with a little help from Matthew. We went ice skating and watched the annual husky dog races. Everyone has fond memories of that holiday.
Five year old David fell in love with snails. When we were back in Australia later that year he asked the waiter in a Pizza Hut "Do you have escargots?"  The waiter, looking somewhat puzzled, said: "What mate? We've got pizzas and salads here mate."
Most days we had lunch in the chalet: deux baguettes with a selection of cheeses, cold meats and patés. Occasionally we stopped for lunch on the ski slopes, where onion soup was invariably on the menu.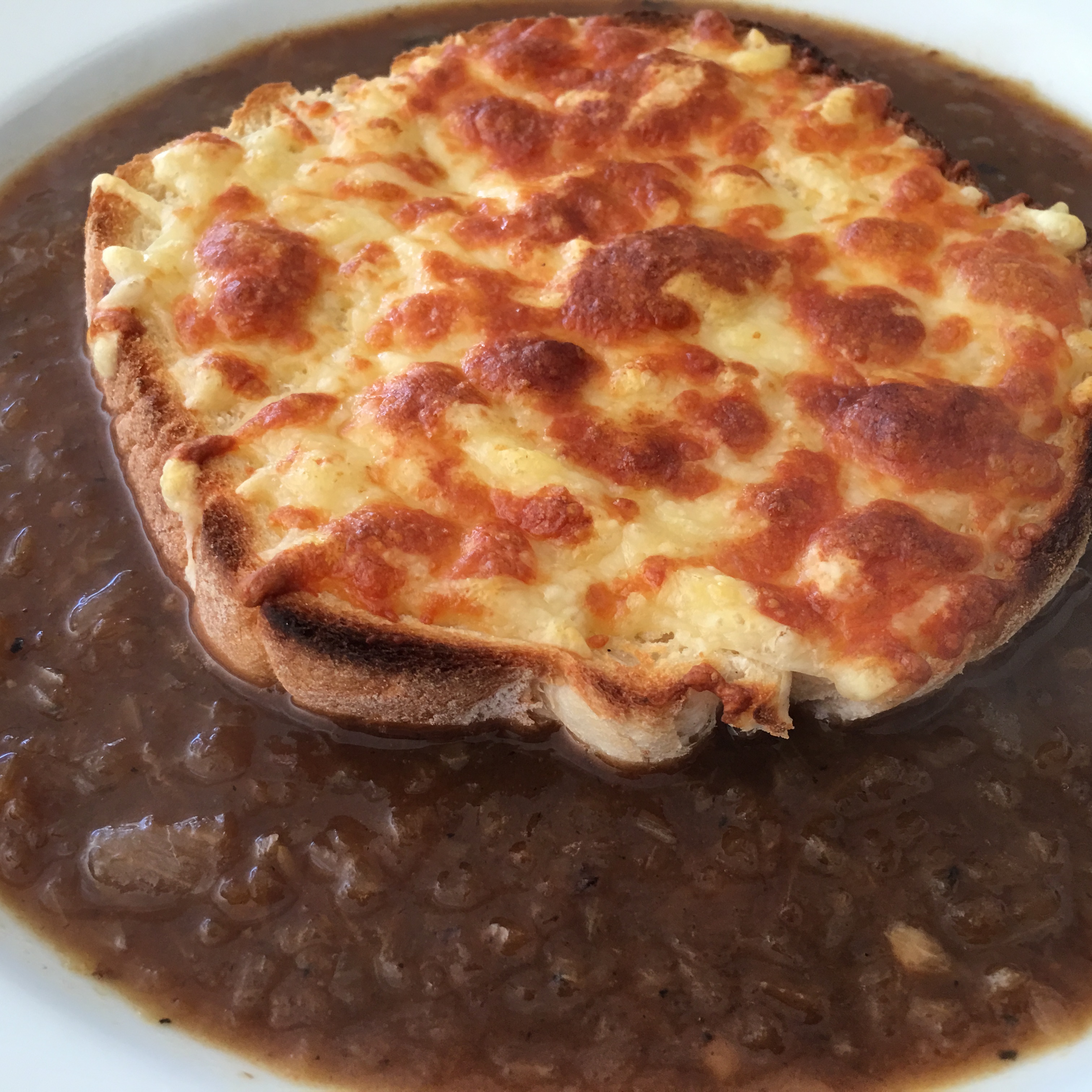 1½ kilos onions, halved then thinly sliced
60g butter and 1 Tbs oil
½ tsp sugar
1 tsp salt
3 Tbs flour
2 litres beef or chicken stock
½ cup dry white wine
12-16 slices French bread sliced 2 cm thick
300g coarsely grated Gruyere or Emmental cheese
Salt and freshly ground black pepper, to taste
3 Tbs dry sherry or brandy
In a large saucepan, cook onions in butter and oil over low heat, stirring often and with a lid for about 15 mins, or until soft. Best to use a heavy-bottomed non-stick pan as there is a tendency to stick with this recipe.
Add sugar and salt and raise the heat to moderate. Cook for 30-40 mins, stirring often, or until deep golden brown. Add flour and cook, stirring, for 3 minutes. Add stock and wine slowly, stirring. Simmer, covered for 30-40 minutes. Cool then refrigerate until ready to serve – preferably overnight. Reheat, add sherry or brandy and salt and pepper to taste.
Top bread slices with grated cheese and grill until golden and cheese is bubbling. Ladle soup into bowls and place one or two slices of bread on each serving.
Serves 6-8