Quiches can be made with a variety of fillings, but the best known is Quiche Lorraine, made with bacon, eggs and cream. It's definitely the most popular in our house, closely followed by Onion Quiche.
Quiches can be frozen at any stage of the preparation. You can freeze the uncooked pastry, the uncooked quiche shell or the partly cooked quiche shell, with or without the filling poured in. While you can freeze a fully cooked quiche, I prefer to freeze them at the point where the filling has just been poured into the partly-baked pastry case. Place the quiche in the freezer until it has frozen completely, then wrap it in a plastic bag to stop the filling from sticking to the bag which would happen if you wrapped it before it had frozen.
When needed, put the quiche straight from the freezer into the oven and allow about 25% longer cooking time. Use a dish which can go straight from the freezer to the oven – most dishes are fine and you can of course make quiches in metal pans rather than ceramic. Baking the pastry case blind – before you add the filling – is the secret to avoiding a soggy bottom.
If you make two batches of the shortcrust pastry recipe below and divide it into 3 equal balls it will be just enough to make three large quiches. I usually do that and use one ball and freeze two for another time, wrapped in plastic wrap. If you only make one batch of pastry you will have enough for one large quiche with some leftover. You could use this to make some little tart cases. Cook them completely while empty, then fill with Lemon Curd or Raspberry Jam.
It's always amazing to see how many onions go into this quiche – one whole kilo! Gently cooked for 45 minutes in butter and oil the onions produce one of my favourite quiche fillings from northern France.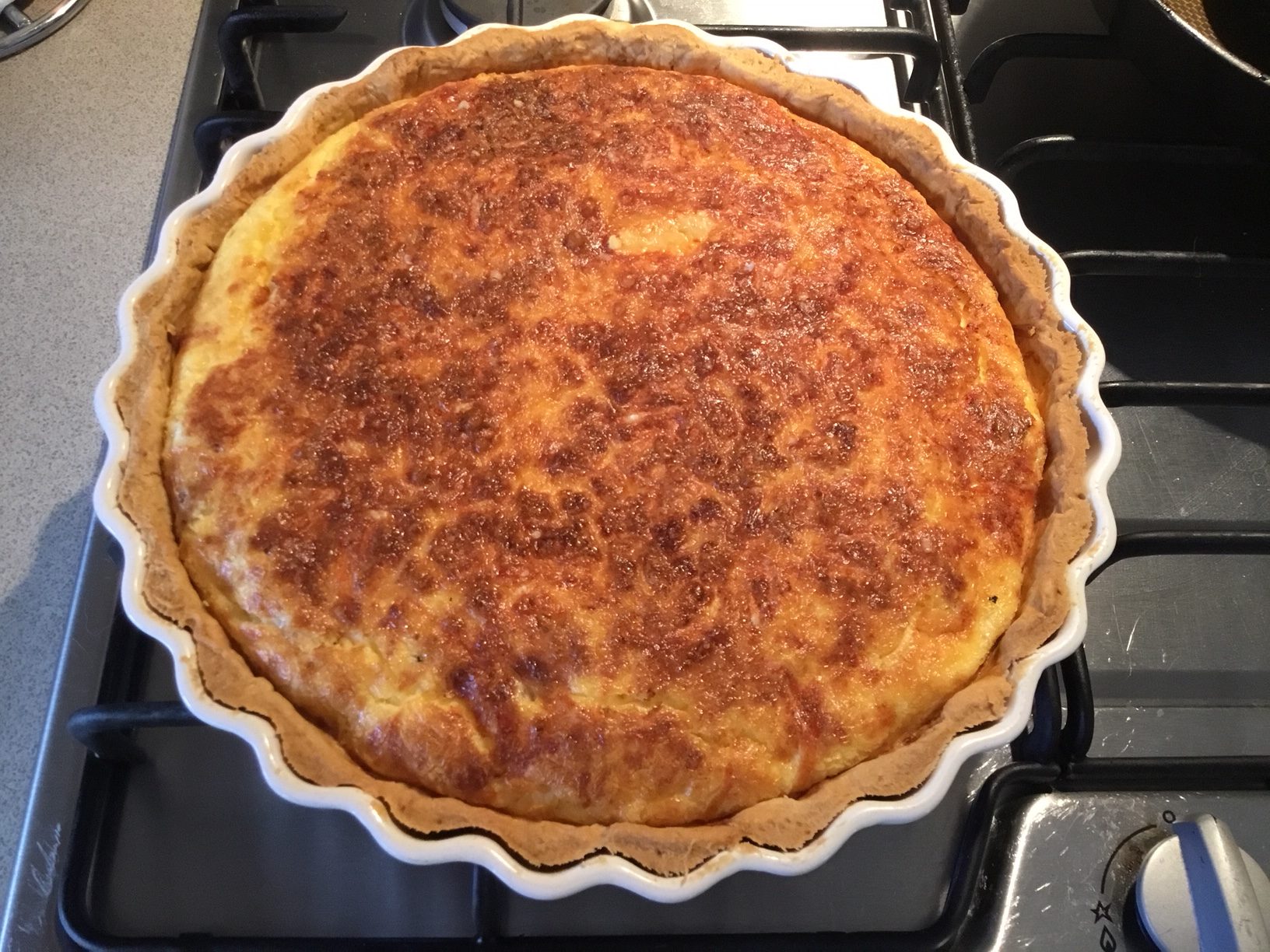 Shortcrust Pastry:
250g plain flour
125g butter, cut into four
½ tsp salt
3-4 Tbs cold water
Filling:
1 kg onions, thinly sliced
50g butter
1 Tbs olive oil
1 Tbs flour
2 eggs
¾ cup cream
1 tsp salt
¼ tsp nutmeg
Freshly ground black pepper
60g grated cheese, preferably Gruyere or Emmental
Pastry: Place flour, salt and butter in food processor and process until it looks like breadcrumbs. With the motor running gradually add about 3 Tbs cold water through the feed chute, stopping the motor as soon as the mixture forms a ball. Tip out, form into a ball. While you only need one batch for this recipe you might like to make a second batch so you end up with two spare balls of pastry to use one day when you're in a hurry. If you decide to do this, make a second batch of pastry, tip it out and make it into a large sausage shape with the first batch. Cut into three and wrap each third in plastic wrap. Refrigerate or freeze until needed. Can be refrigerated for 3-4 days or frozen for a month or two.
Preheat oven to 180°C. Roll out pastry and line quiche dish (mine is 25cm diameter and 3.5cm deep) then bake it blind. Don't worry if you have to patch up a few holes, nobody will know when it's cooked. To bake blind, line the pastry case with a piece of aluminium foil, pressing it down to fit, then tip in something to weigh it down and stop the pastry from rising in the middle. I use dried corn kernels which I keep in a jar and use over and over again. Dried beans or rice will also do the trick.
Bake the quiche shell for 5-10 mins, then remove the foil and corn and bake it for a few more minutes until very pale golden in colour.
Meanwhile for the filling heat butter and oil in a large heavy frying pan, add onions and cook very gently for about 45 minutes, or until tender and pale golden, stirring regularly. Add flour and cook, stirring, for 1-2 minutes, then cool. Onions can be prepared to this stage ahead of time and kept refrigerated.
In a mixing bowl beat eggs with cream, add the cooled onions, salt, nutmeg and black pepper to taste and pour into pastry case. Can be frozen at this stage.
Sprinkle with grated cheese and bake for 45 minutes or until puffed and golden brown. Serve warm or at room temperature.
Serves 6-8
Note: I have a slightly larger quiche dish which is 27-28 cm in diameter. If I use the bigger dish, to make more filling I just add two more eggs, making four in total.