This is an adaptation of a recipe by Yotam Ottolenghi called Four Lime Green Bean Salad.
His original recipe (which you can easily find online) is no doubt delicious, but I didn't have any kaffir lime leaves or Iranian ground lime. I increased the amount of broad beans and peas to make equal quantities of all three vegetables.
A perfect addition to the New Year buffet or to accompany leftover Christmas Ham and Turkey.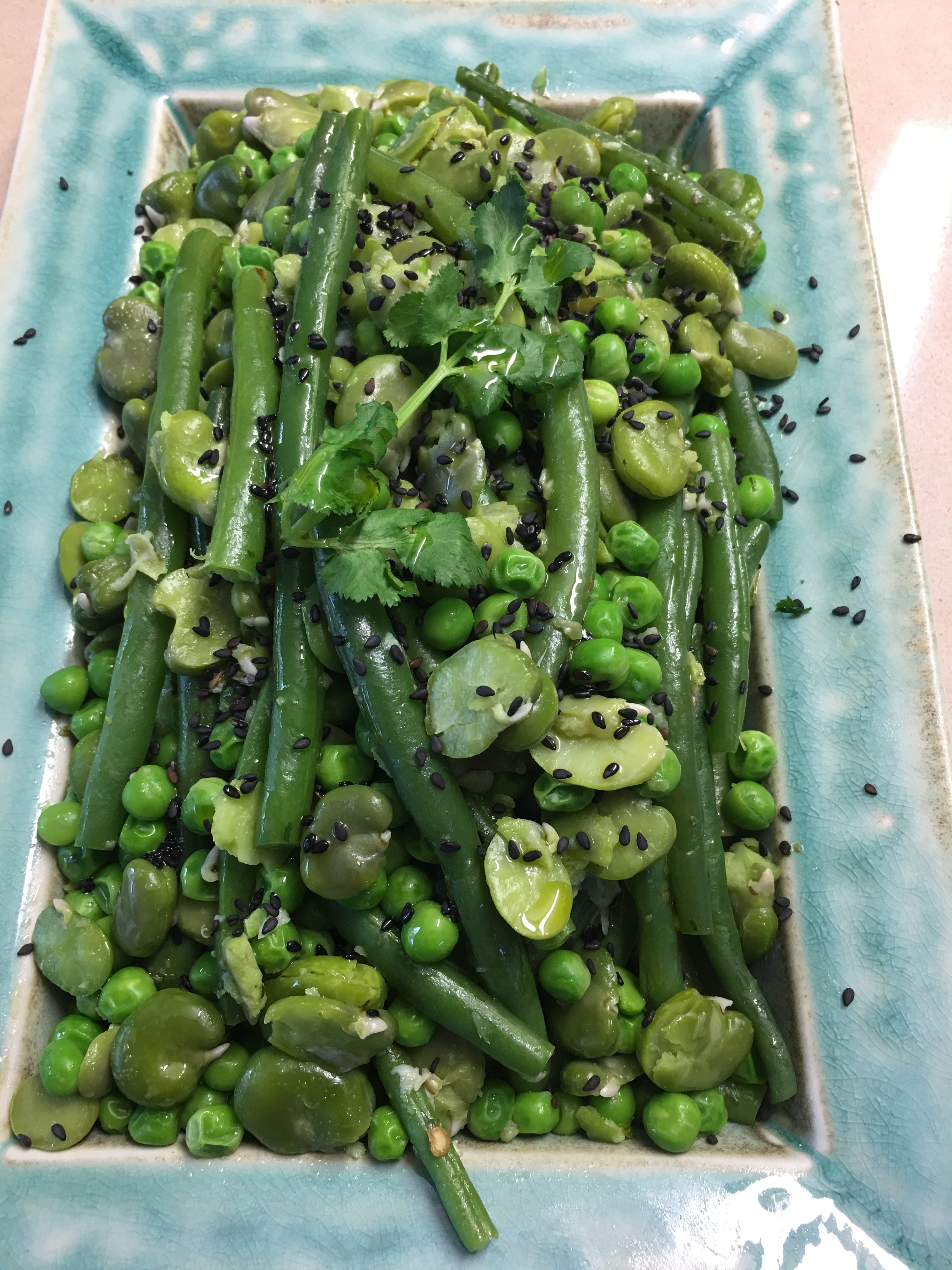 500g fresh green beans
500g packet frozen broad beans (or use fresh, shelled)
500g frozen peas
Dressing:
Zest and juice of 1 lime or ½ lemon
3 Tbs olive oil
1 clove garlic
½ cup fresh coriander leaves
½ cup fresh mint leaves
1 long green chilli, deseeded
1 tsp salt
Garnish:
Black sesame seeds
2-3 tsp Za'atar spice mix
A few coriander leaves
1 long green chilli, deseeded and finely chopped (optional)
Top and tail beans then cook in boiling salted water for 3 mins. Drain, refresh with cold water and drain again. Cook broad beans in boiling water for 2-3 mins then drain and remove the outer shells and discard. Cook peas in boiling water for 2-3 mins then drain. Place both beans and the peas in a large serving dish.
Place all ingredients for the dressing in food processor and process till smooth. Pour over the beans and mix well. Garnish with a sprinkling of black sesame seeds, spice mix, coriander leaves and, if liked, the extra green chilli.
Serves 6
Substitutions: if you don't have any Za'atar spice mix, experiment with a few of your favourite spices or spice blends