This is a slight variation on a recipe from Donna Hay which appeared in the November issue of the Australian Women's Weekly magazine. I ran out of yoghurt so the sauce doesn't feature in my photo.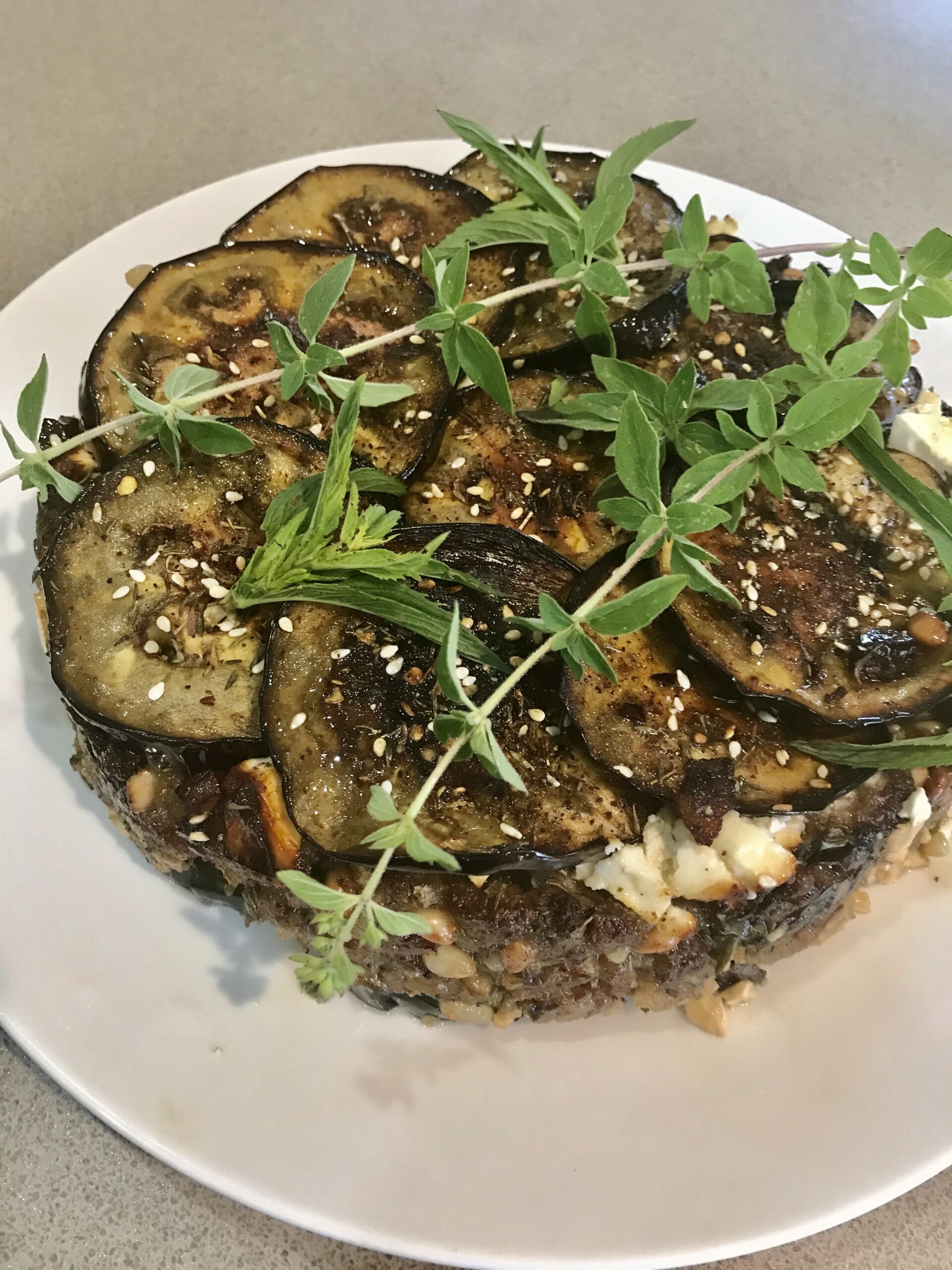 2 eggplants, thinly sliced into rounds
500g minced lamb
1 cup fresh wholemeal breadcrumbs
2 Tbs honey
2 tsp ground cumin
¼ cup chopped fresh mint
2 Tbs pine nuts
Salt and freshly cracked black pepper
2 tsp oregano
1 tsp sumac
150-200g firm creamy feta (I used Danish)
Olive oil for brushing
2 tsp Za'atar seasoning
To serve:
1 cup Greek-style plain yoghurt
2 Tbs shredded mint leaves
Salt to taste
Fresh mint and oregano or marjoram leaves
Preheat oven to 180°C. Grease a round cake tin or baking dish. I used a metal cake tin which was 22cm in diameter. The original recipe uses a larger one 28cm in diameter. Use what you have, it won't make a big difference.
Cover the bottom of the pan with eggplant slices, placing one in the middle and the rest overlapping all the way around. Sprinkle with half the crumbled feta. Mix mince, breadcrumbs, honey, cumin, chopped mint, pine nuts and seasoning and tip into the pan, pressing down evenly. Sprinkle with the rest of the feta. Cover the top with eggplant slices, with one in the middle and the rest overlapping around it. You may not use all the eggplant. Brush the eggplant with olive oil and sprinkle with the Za'atar seasoning. Bake for 45-60 mins until the eggplant is nicely browned, then stand for 10 minutes before slicing.
Mix the yoghurt, mint and salt to taste and serve with the pie. Garnish with fresh mint and oregano or marjoram leaves. Serve with a salad.
Serves 6
Note: you could use minced beef, turkey or chicken instead of the lamb.