I'm always on the lookout for tasty new ways to serve pasta.
As we discovered when we spent a week there last year, Sicilian cuisine uses a lot of eggplant, one of my favourite vegetables. In this traditional Sicilian recipe it's combined with tomatoes, raisins, pine nuts and capers. Two photos this week – one in the pan and one on the plate.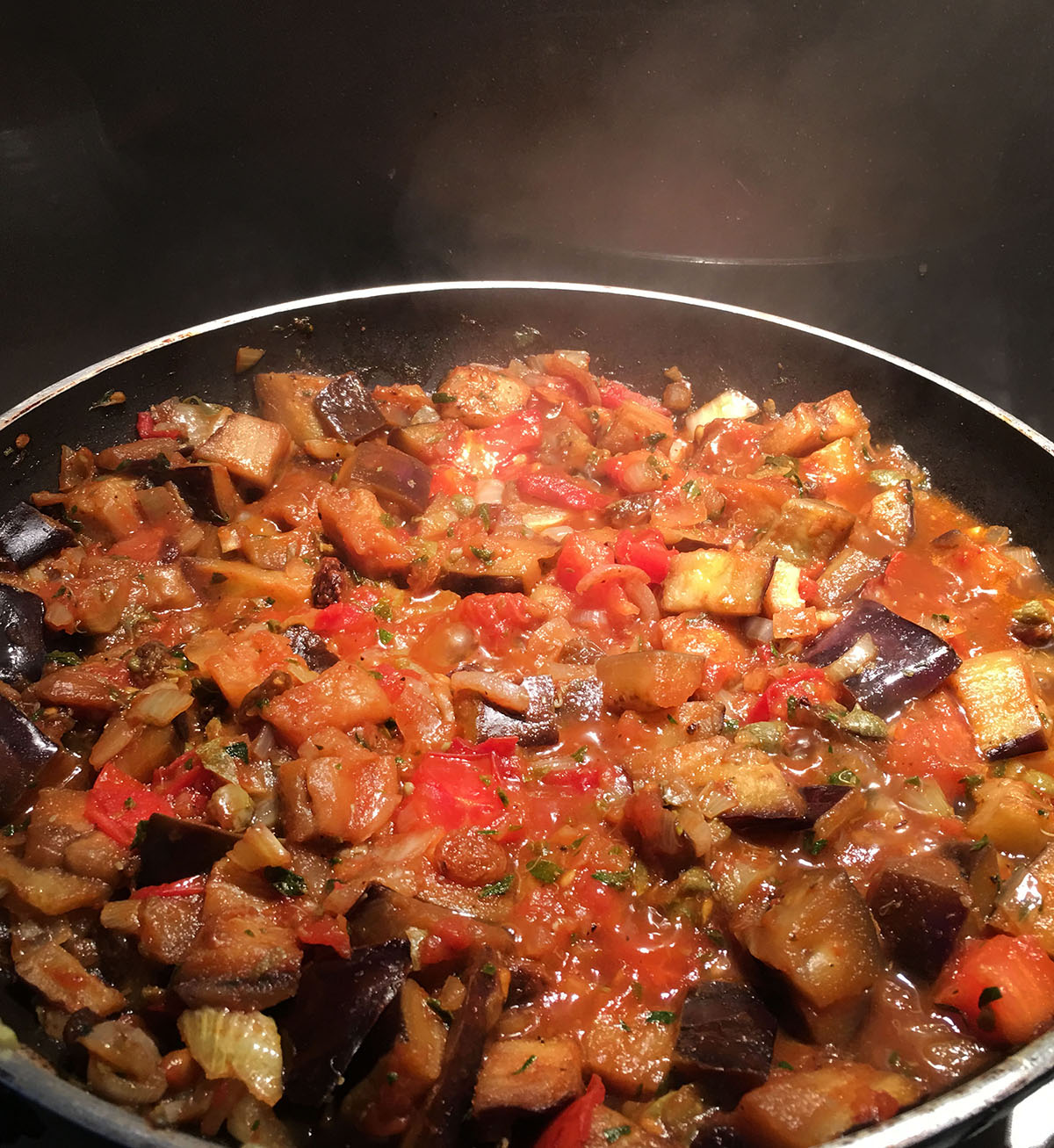 3 Tbs olive oil
1 onion, chopped
1 clove garlic, crushed
½ small red chilli, seeds removed, finely chopped
2 Tbs fresh marjoram or oregano, chopped (or 1 Tbs dried)
1 large eggplant (aubergine) cut into 2cm cubes
2 Tbs raisins
2 large tomatoes, chopped
1 Tbs tomato paste
1 tsp sugar
1 Tbs capers, rinsed and roughly chopped
2 Tbs red wine vinegar or balsamic vinegar
½ cup water
Salt and freshly ground black pepper
250g pasta (e.g penne, fusilli, rigatoni)
To serve:
2 Tbs pine nuts, lightly toasted
2 Tbs fresh chopped mint (or parsley)
Grated Parmesan cheese
Extra virgin olive oil
Heat 1 Tbs of the oil in a large frying pan and cook the onion, garlic, chilli and marjoram until onion is soft, but not browned. Remove from pan. Add remaining 2 Tbs oil to the pan and cook the eggplant, stirring. When golden add raisins, tomatoes, tomato paste and sugar then return the onion mixture to the pan. Add the capers, vinegar and water, then simmer gently while you cook the pasta. If it gets too dry add a bit more water.
Cook pasta until al dente. Season the eggplant sauce, then mix into the pasta. Serve topped with the pine nuts, mint, grated cheese and a drizzle of oil.
Serves 2-3