These Chinese Sesame Noodles with Eggplant always leave me thinking that if I had to be a vegetarian, this is one of the dishes I would make often. Some vegetarian dishes are satisfying and others just don't hit the spot.
The original version came from Australian cook Belinda Jeffery, cooking presenter on the TV show Better Homes and Gardens for many years. I've been making it for over 20 years and yes I've tweaked it slightly (I know, I'm incorrigible) and added the optional pine nuts which were suggested by Matthew.
Served at room temperature it's perfect for a shared buffet or as a light family dinner. Also great for lunch boxes.
This week's recipe is especially for Moya and John and my brother David.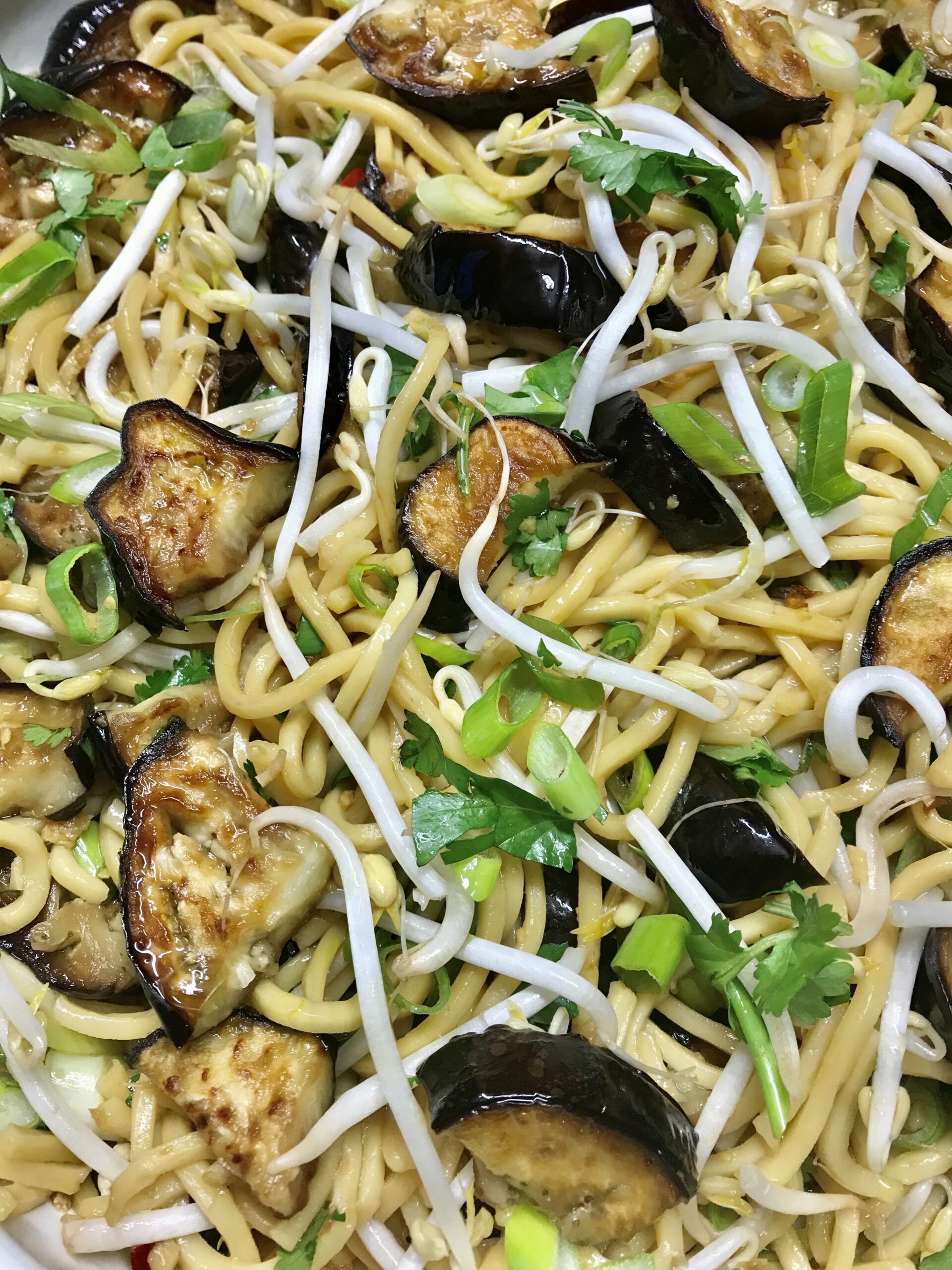 2 large eggplants, cut into 1cm thick slices
3 spring onions, sliced finely on the diagonal
125g bean sprouts
A good handful chopped fresh coriander
450g fresh noodles (Hokkien or Singapore)
Lightly toasted pine nuts to garnish (optional)
Basting mixture:
2 Tbs sesame oil
2 Tbs olive oil
3 Tbs soy sauce
2 Tbs vinegar
¼ cup sugar
1 small red chilli, finely chopped (with or without seeds, up to you)
2 tsp finely chopped or grated fresh ginger (I tend to use more, like double!)
1 large clove garlic crushed
Cook noodles according to packet directions and drain. Preheat oven to 200°C. Mix basting ingredients. Arrange eggplants on two large shallow baking trays lined with baking paper. Brush both sides with the basting mixture. Bake for 20-25 minutes or until tender, brushing them again about halfway through the cooking time.
When eggplant is cool enough to handle cut into quarters, halves or thick slices and mix with remaining basting mixture. In a large shallow serving dish mix the eggplants with the noodles, bean sprouts, spring onions and coriander, keeping a little for decoration. Taste and add some extra olive oil or soy sauce, if necessary. Garnish with the reserved coriander and a few toasted pine nuts (optional, but they do add a nice bit of crunch) and serve warm or at room temperature.
Serves 4