Thick stewed apples surrounded by crisp buttered toast, this is another dessert to add to my list of ones that everyone, including the grandkids, loves. When all hands go up for a second helping I know I've found a winner.
When I served it over Christmas it was described by family members as French Toast with Apples and Tarte Tatin with crunchy toast instead of pastry.
My version is loosely-based on one by Rick Stein which he makes in a pudding bowl. I decided to use a metal cake tin, because it makes it easier for the bread to crisp up. Increase the ingredients by 50% and use a bigger 10-12 inch tin to serve a bigger crowd.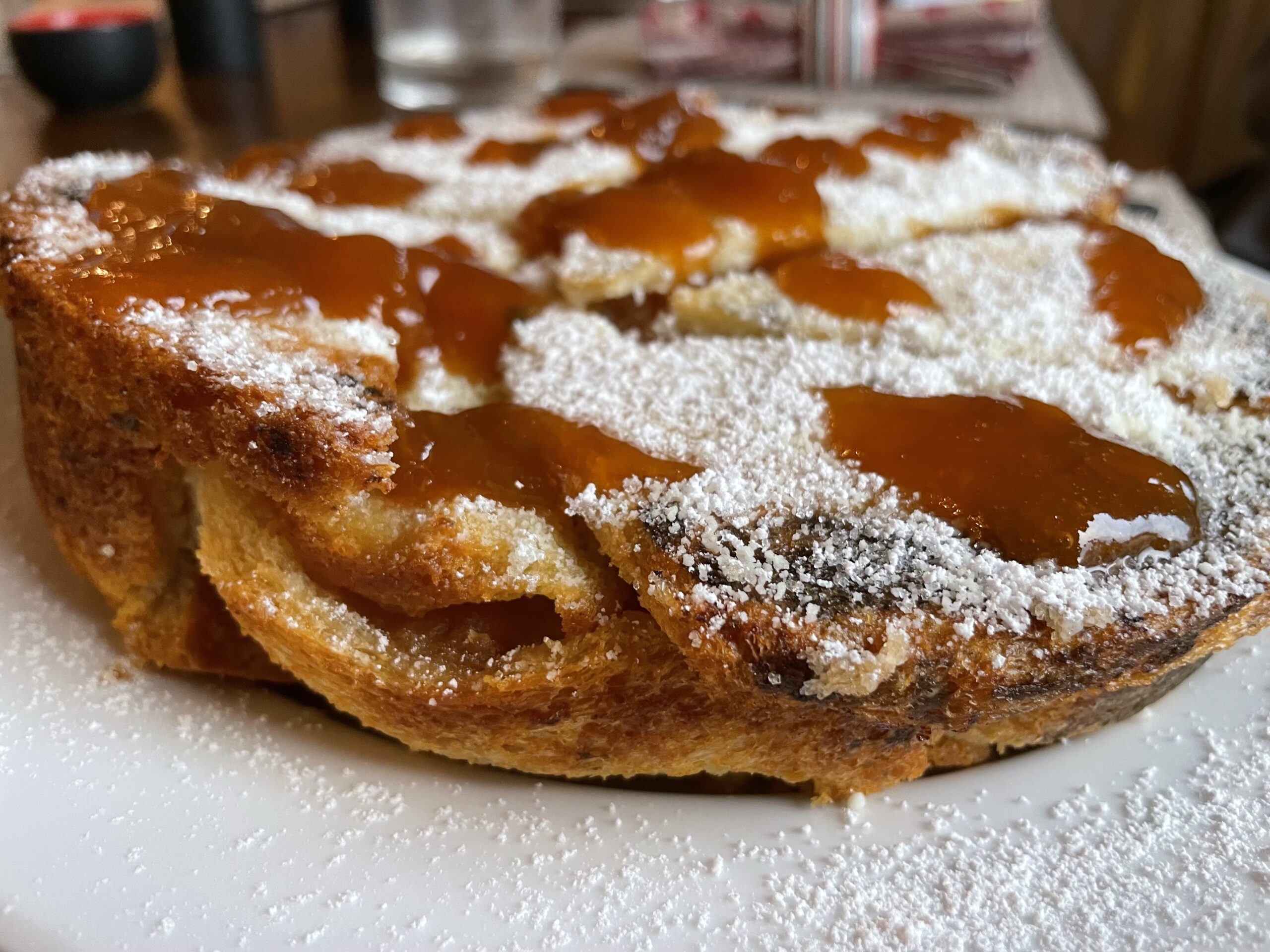 30g butter
2-3 Tbs sugar (to taste)
1 kg apples, peeled and sliced (see note below)
Grated rind and juice from 1 lemon or 1 small orange
Optional: raisins, cinnamon, ground cloves etc
About 12 slices white bread, crusts removed
125g butter, melted (you may need more)
To serve:
Icing sugar
4 Tbs smooth apricot jam (push through a sieve if lumpy)
Thick cream or custard
Preheat oven to 180°C. While you are peeling the apples, put the 30g butter and sugar in a saucepan and cook, stirring, until starting to caramelise. Add the apples, lemon or orange rind and juice and cook until the liquid has evaporated and the apples have become thick and pulpy. Some apple varieties break up more easily than others. Check for sweetness and feel free to add a few raisins and a good pinch of cinnamon or cloves.
Melt the butter and use a pastry brush to butter an 8″ (20cm) metal cake pan. Cut the bread slices in halves to form two triangles, brush them with butter and use to line the bottom and sides of the cake tin, slightly overlapping each piece. Scrape apple filling into the tin and smooth the top. Bring the bread slices from the sides over the top and use more pieces to fill any gaps, so that the filling is completely encased. Brush more butter all over the top. Can be made ahead to this point and kept refrigerated.
Bake for 30-40 minutes or until light golden brown on top. Carefully tip out onto a shallow baking tray and brush with any leftover melted butter. Put back in the oven for 10 minutes or until evenly browned all over.
To serve, dust with icing sugar. Heat the apricot jam, then drizzle over the top. Serve with cream or custard.
Serves 8-10
Tip: after removing the bread crusts make them into crumbs by blitzing in the food processor. Freeze in a plastic bag and use in toppings for recipes such as Seafood Mornay
Note: Bramley cooking apples are traditionally used in the UK  because they aren't too sweet and cook down to a pulp. They are hard to find in Australia, so basically use whatever apples you have on hand. Rick Stein uses half Bramleys and half eating apples.