When I was at school in England we made Russian Fish Pies in cookery classes. Steamed white fish, chopped hard boiled eggs and parsley were mixed with a thick white sauce, encased in puff pastry and baked. At the time I thought it was delicious, but I now realise that the fish was over-cooked.
This recipe for Seafood Mornay uses raw seafood mixed into a thick sauce flavoured with cheese and sherry. Either top it with grated cheese and breadcrumbs or make it into pies. Both are delicious – the latter a bit more filling, but not too bad as they only have pastry on the top, not underneath. Either way the seafood is cooked al dente, the way it should be.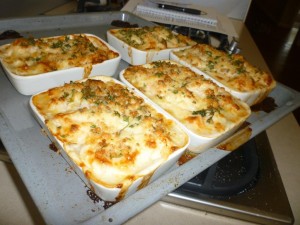 500g firm white fish fillets, no skin or bones
500g salmon fillets, no skin or bones
500g peeled raw peeled prawns
3 Tbs breadcrumbs (about one slice of bread whizzed in food processor)
3 Tbs grated Parmesan cheese
2 Tbs parsley
Sauce:
60g butter
60g plain flour (about 2 very heaped Tbs)
1½ cups milk
½ cup cream
salt and pepper to taste
pinch of nutmeg
2 Tbs sherry
150g Gruyere cheese, grated (you can substitute cheddar or Ementhal)
Cut fish into cubes about 2-3 cm square then place with prawns in a colander to drain while you make the sauce. Melt butter, add flour, cook for a minute then gradually add sherry, milk and cream. Add salt, pepper, nutmeg and cheese. Season generously because the seafood hasn't been seasoned. Remove from heat as soon as cheese melts. The sauce will be very thick, but the fish will create juices as it cooks, especially if it's been frozen, so you need a thick sauce to counteract this. If it seems unmanageably thick add a dash more milk. Mix sauce with seafood and place in one large buttered ovenproof shallow dish or 8-10 individual dishes.
Preheat oven to 200°C. Mix Parmesan, breadcrumbs and parsley and sprinkle over. Mornays can be refrigerated, covered for up to 24 hrs or frozen, well-wrapped, for up to 2 months. If frozen, thaw before cooking.
Bake for 30-40 mins until golden brown all over and bubbly. Serve as a main dish with a green vegetable such as beans or snow peas and rice or new potatoes.
Serves 8-10
Seafood Pies
Seafood mixture (see above)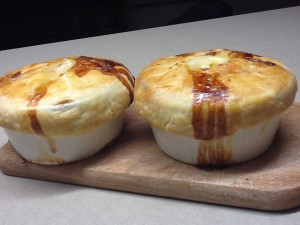 1 egg, beaten
Sour Cream pastry:
250g plain flour
125g butter
1/3 cup sour cream
1-2 Tbs cold water
1 tsp salt
Place flour in food processor, add cold butter cut into pieces and process until fine crumbs. Add sour cream and salt and start motor again. Gradually add water through the chute with motor running. As soon as pastry forms a ball tip out and pat into a flat disc. Wrap in plastic wrap and refrigerate until needed.
Preheat oven to 200°C. Divide fish mixture amongst 8-10 buttered dishes, such as soufflé dishes shown in photo which have a one cup (250ml) capacity. Fill almost level with the top. Roll out pastry on a floured surface and cut circles the diameter of dishes plus 2-3cm. Dampen edges of dishes, place pastry circles on top and press pastry on to seal. Cut a hole for steam to escape. Brush with beaten egg then bake for 30-40 mins or until golden brown and bubbling through the steam vent.
Makes 8-10 pies