This recipe was inspired by a bruschetta we ordered while we were in Chicago last year. I remember it was topped with homemade fish fingers – otherwise known as "goujons"- peaches, tomatoes, cucumber and a creamy dressing. The rest I had to invent.
The tomato is often thought of as a vegetable, but in fact it's a fruit. If you don't like fruit with savoury dishes, you won't like this recipe, but I love the fresh flavour combination. If liked leave out the bread. Leftover dressing is delicious served with any salad.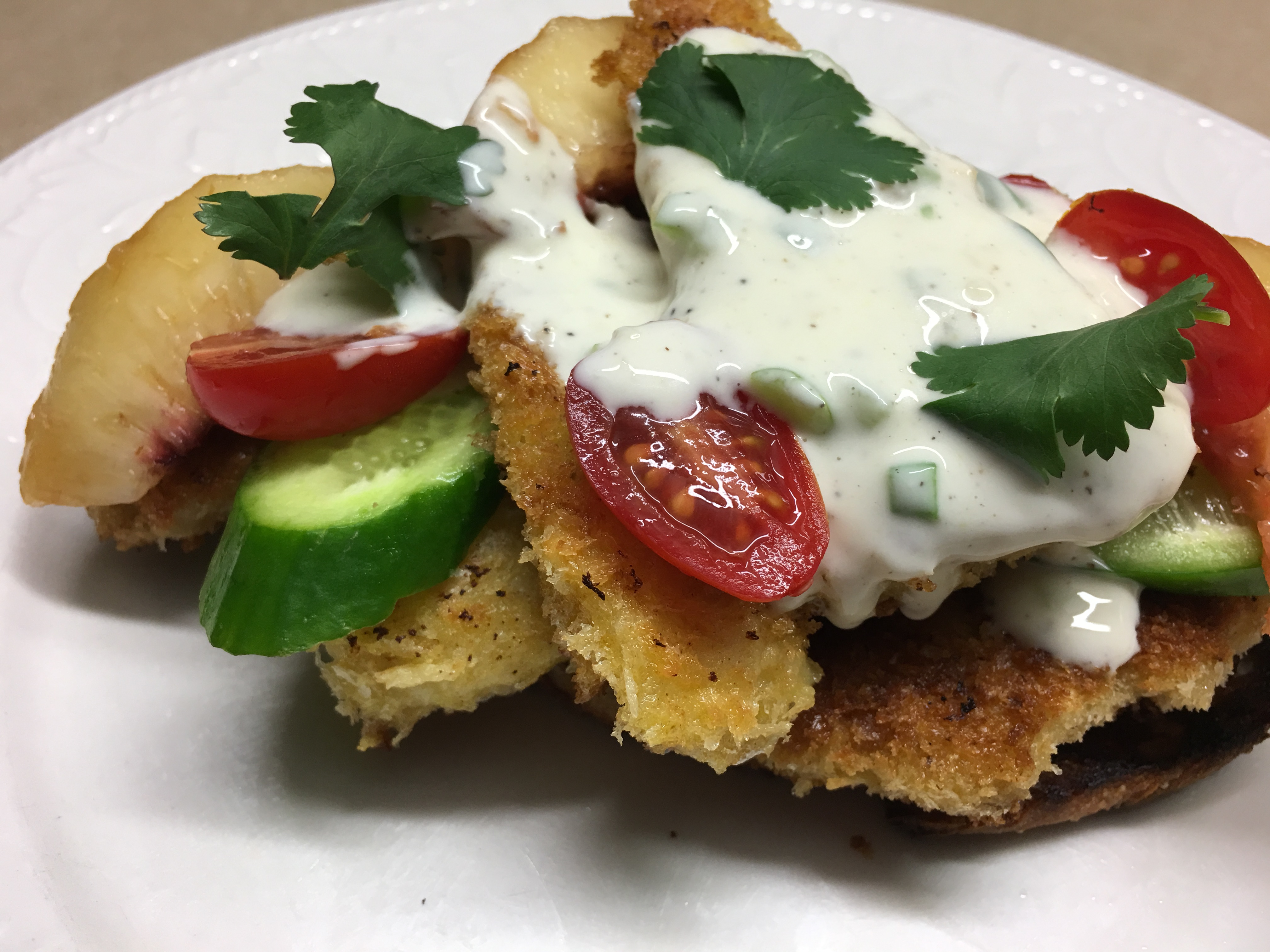 4 slices of baguette, cut on the diagonal (I used sourdough)
Olive oil to brush onto the bread
500g white fish fillets (I used Basa) cut into fat fingers
3 Tbs plain flour, seasoned
1 egg, beaten
1 cup or more breadcrumbs (preferably Panko)
1 small cucumber, sliced on the diagonal
A few cherry tomatoes, halved
2 peaches or nectarines, peeled and sliced
2 Tbs olive oil
25g butter
Fresh herbs such as mint or coriander
Buttermilk Dressing:
¼ cup mayonnaise (preferably homemade)
3 Tbs buttermilk
1 Tbs chopped chives
2 tsp cider vinegar
½ tsp salt
½ tsp ground black pepper
1 clove garlic, crushed
Coat fish fingers (goujons) with the seasoned flour, shaking off the excess, then with the beaten egg and lastly with the breadcrumbs. Heat oil and butter in a large frying pan and fry them for 2-3 minutes each side, or until golden brown and cooked through. Drain on paper towels.
Place all ingredients for dressing in a jar with a lid and shake well. Brush the bread on both sides with the olive oil (if liked mix in a crushed clove of garlic) then grill till golden. I toasted mine in an electric sandwich press which works well and avoids having to turn on the grill.
Arrange toasted bread slices on 4 plates. Arrange the fish on top then garnish with the cucumber, the tomato halves and the peach or nectarine slices. Drizzle with some of the dressing and garnish with fresh herbs.
Makes 4 bruschettas