We went to a Japanese restaurant in Bangkok last month which served delicious, light and very reasonably-priced food. I ordered a raw fish salad, which was a generous main course size and cost around $10. It was so delicious we went back, I ordered it again and decided to recreate it when we got back.
This is a recipe for people who like raw fish. Buy very fresh, sashimi quality and discard any fibrous, stringy bits as you cut it up. While the idea of fake crab stick is an anathema to many people, that's what they used in Bangkok and I was pleasantly surprised. It added a touch of sweetness to the flavour combination. If preferred substitute cooked crab or leave it out and use a bit more fish.
The salad was topped with about two tablespoons of salmon caviar. These salty little delicacies explode in your mouth and really make the dish. They must be much cheaper in Thailand than they are in Australia where they retail for over $30 for a 100g jar. In this country there's no way you could be so generous with the caviar and only charge $10 for the dish. You can buy red fake caviar in most supermarkets for a fraction of the cost, but it's not the same thing and to be avoided.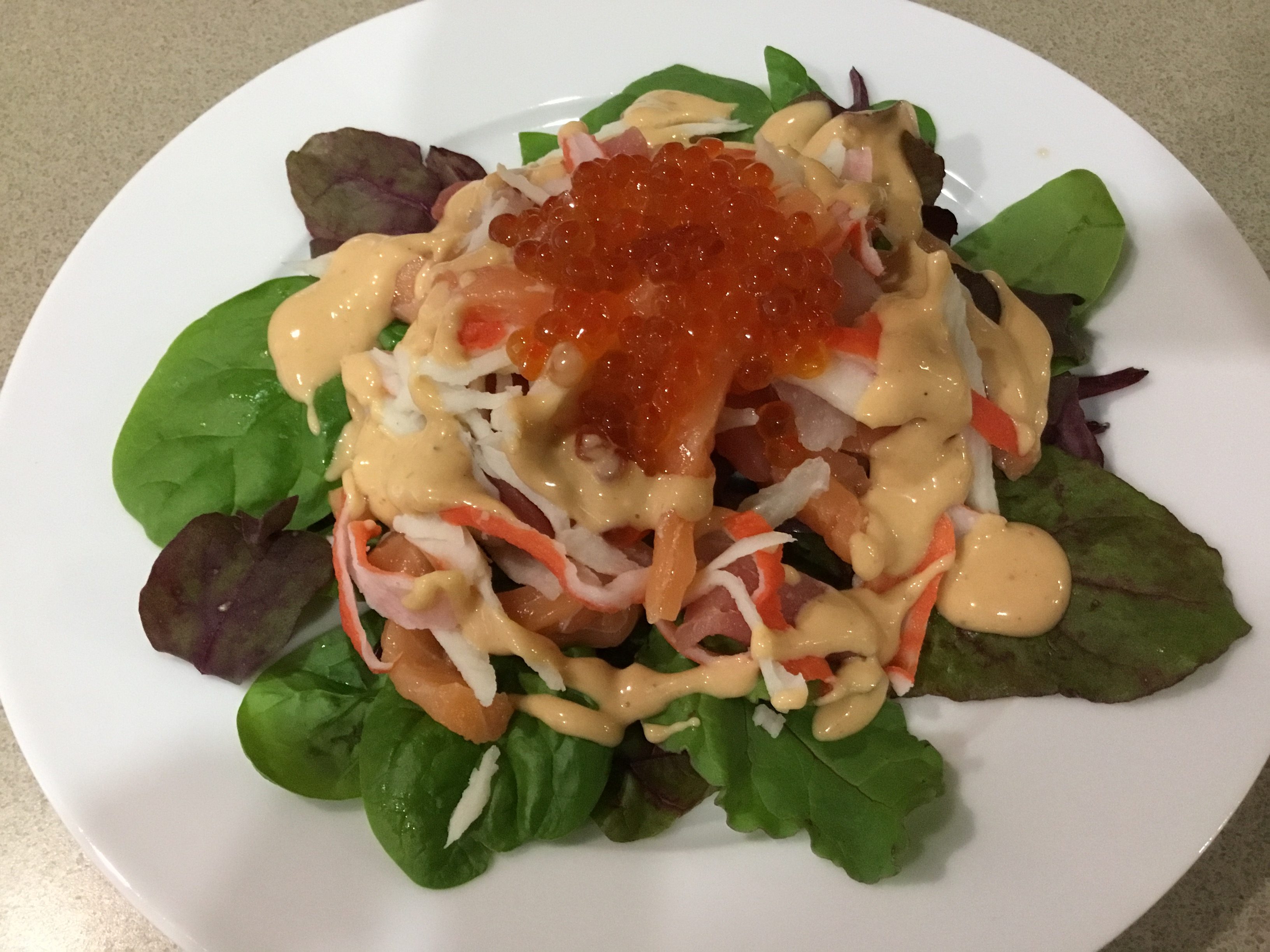 About 8-10 cups small salad leaves
350 firm white fish, cut into fat matchsticks
350 salmon, cut into fat matchsticks
200g crab sticks, cut into fine julienne
Sauce:
1 cup mayonnaise (preferably home-made)
¼ cup tomato sauce (ketchup)
Juice of 1 lemon
Tabasco or hot chilli sauce, to taste
Garnish:
1 small jar salmon caviar
Arrange salad leaves on 4 large or 8 small plates. Arrange the fish and crab sticks on top in layers.
Mix all ingredients for sauce. Drizzle over the salads and garnish with the salmon caviar.
Serves 4 as a main course or 8 as a starter