The first Australian Women's Weekly cookbooks were published in the late 1970s and constituted a turning point in Australian cuisine. There were very few cookbooks on the shelves back then and everyone had the same ones. My small collection included The Margaret Fulton Cookbook, The Complete Asian Cookbook by Charmaine Solomon, Great Dishes of the World by Robert Carrier and Mastering the Art of French Cooking, volumes 1 and 2, by Julia Child.
From 1976 the Women's Weekly released a new book every few months – eagerly awaited by keen cooks around Australia. My friend Ferne and I made every single recipe and compared notes when we met. Home cooks started asking their local supermarkets for new and unusual ingredients and the supermarkets had to keep up with the demand.
The Chinese Cooking Class Cookbook hit stores in 1978 and sold out within a couple of weeks. Since then, it's been reprinted countless times, selling over 4 million copies around the world. My well-worn copy, now almost 40 years old, has comments and amendments on every recipe. The price of $3.98 is on the front page and believe me, I got my money's worth.
This is where I learnt to cook Chinese food, before I moved on to the likes of Ken Hom and Kylie Kwong. If you don't have a copy and can find one online or in a bookshop, grab it. You won't be disappointed. To say it's an oldie but a goodie would be an understatement. Other favourites of mine were Beautiful Biscuits, the Italian Cookbook and the two Dinner Party Cookbooks, but there must have been around 50 in the full series. For about five years they were my bibles and although I rarely use them now, I can't bear to throw them out.
I haven't made this fish recipe for over 10 years and had forgotten how good it was. The original recipe has twice as much batter, but I find this amount is just enough. I hope you enjoy it as much as we do.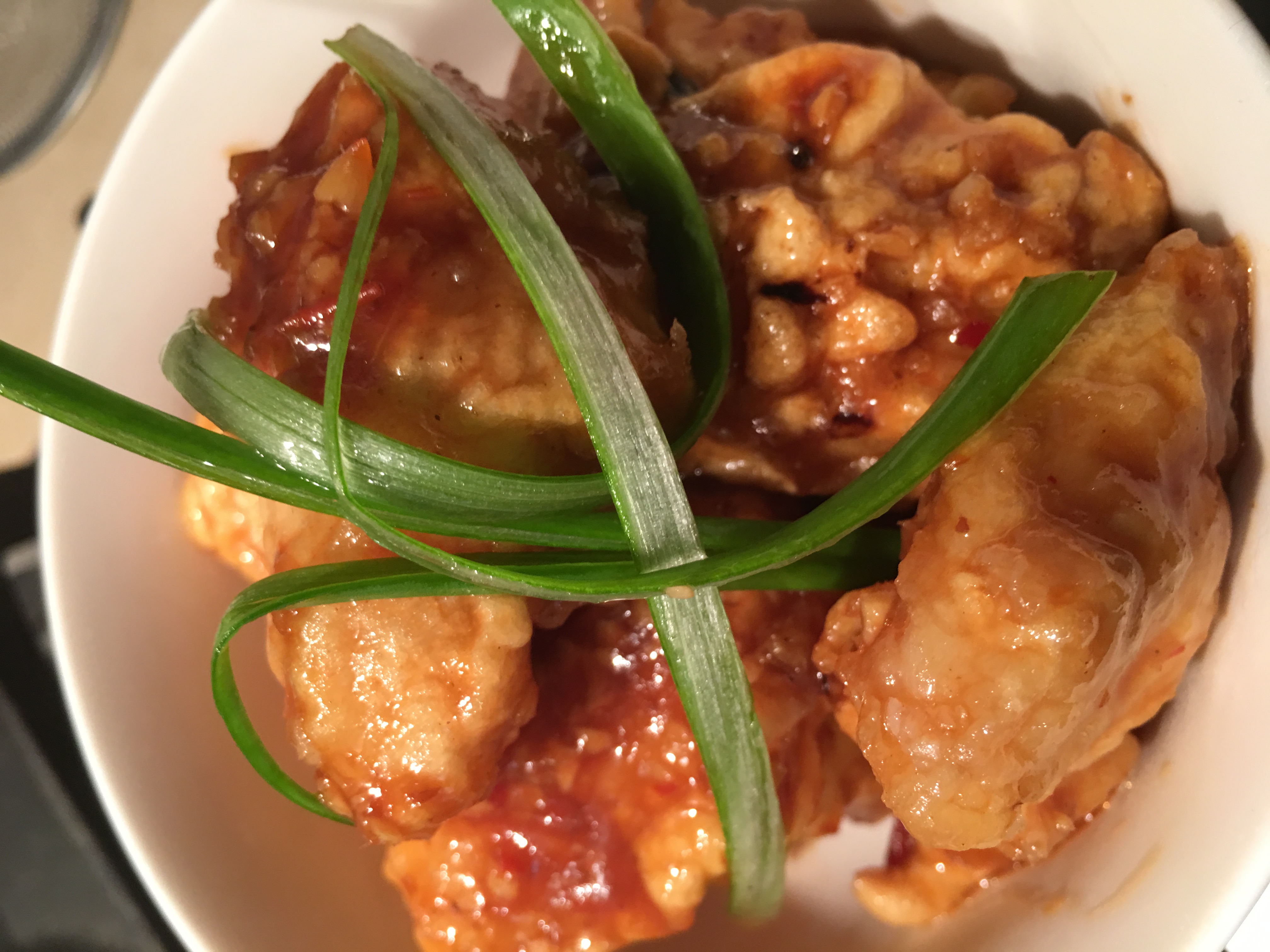 500g skinless, boneless white fish fillets
Oil for frying, such as canola or sunflower
Batter:
½ cup plain flour
2 Tbs cornflour
1 egg white
4-5 Tbs cold water
Pinch salt
Sauce:
1 Tbs oil
1 Tbs grated fresh ginger
3 cloves garlic, crushed
¼ cup tomato sauce (ketchup)
¼ cup Thai sweet chilli sauce
2 tsp sugar
1 Tbs soy sauce
2 tsp dry sherry
2-3 Tbs water
Garnish:
Thin strips of the green part of spring onions, soaked in iced water
Cut fish into 2-3cm chunks. Mix all ingredients for batter until you have a thick, smooth batter. Place all ingredients for sauce in a medium frying pan, bring to the boil, then turn off the heat. Place all the fish pieces in the batter and turn to coat. Heat about 5cm oil in a wok, deep fat fryer or saucepan.
Remove fish pieces one at a time from the batter and lower into the hot oil. Cook them in 2 or 3 batches until golden brown and cooked through. Drain fish and place in the frying pan with the chilli sauce.
Turn on the heat in the frying pan and cook for a couple of minutes, turning the fish pieces gently, to coat them with the sauce. Garnish with spring onion slivers and serve with steamed rice.
Serves 4