This simple vegetable curry is perfect for using up all the odds and ends of vegetables from the bottom drawer of the fridge to produce a tasty family meal. I used sweet potato, pumpkin, green beans, potatoes and frozen peas. Other vegetables such as cauliflower, zucchini, carrots, capsicum, broccoli and eggplants also work well in this recipe.
If you're not sure how many vegetables to prepare, I filled a one-litre measuring jug twice to overflowing. The quantity is flexible, but basically you need a big bowl full. If you don't have enough vegetables, add a drained can of chickpeas.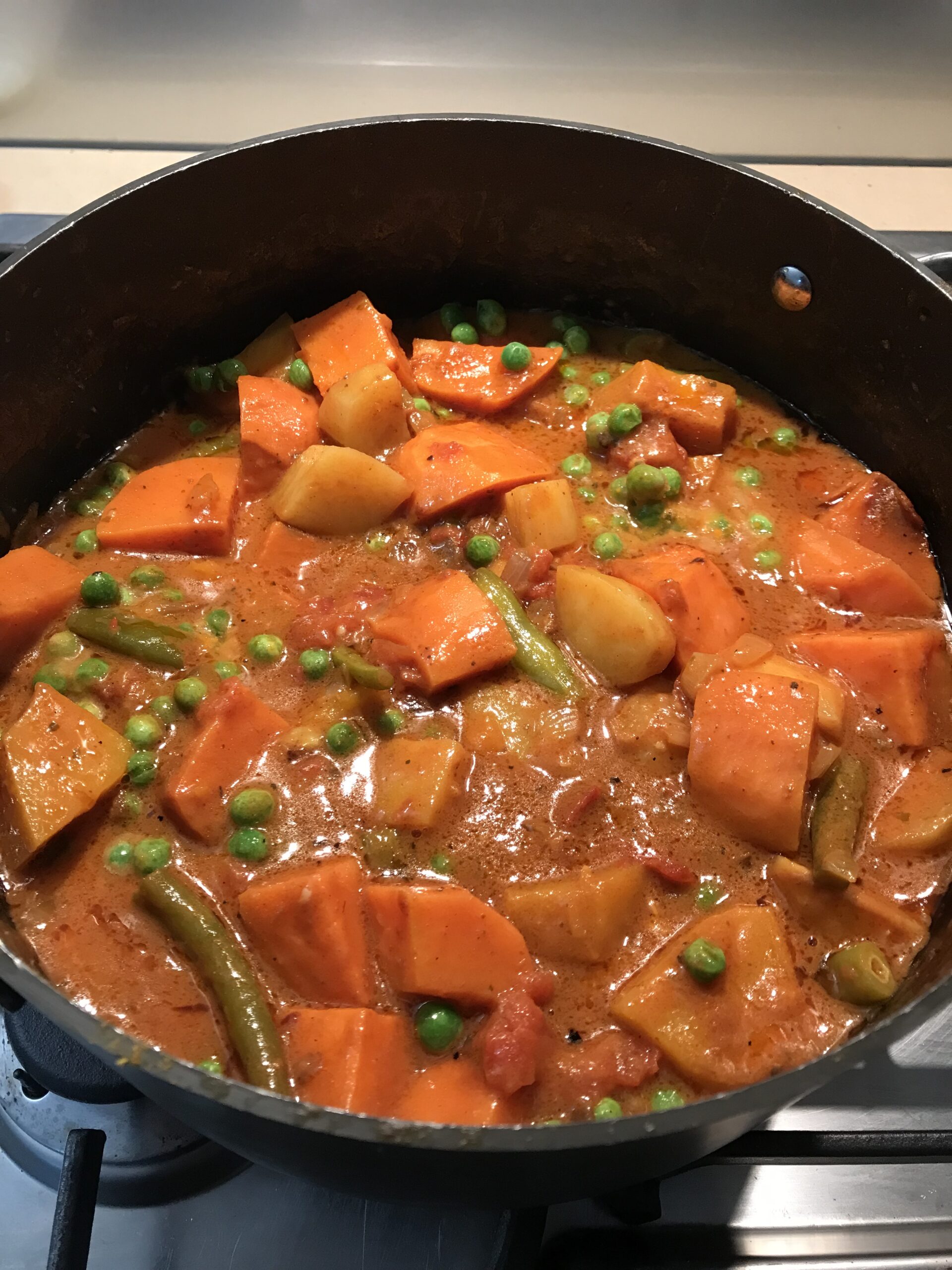 3 Tbs vegetable oil
1 large onion, diced
2 cloves garlic, crushed
1 red chilli, seeded and finely chopped (optional)
1 Tbs grated fresh ginger (optional)
3 Tbs curry paste or powder
1 tsp paprika or turmeric
1 can tomatoes, chopped
1 can coconut milk
2 cups chicken or vegetable stock
1 tsp sugar
8-10 cups prepared vegetables (see list above)
2 cups frozen peas or 2 handfuls spinach leaves
Extra water as required
Salt and freshly ground black pepper
To serve:
Steamed rice
Plain yoghurt
Chopped fresh coriander
Fruit chutney
Prepare vegetables by cutting them into large chunks and pieces that will cook in a similar time. Heat oil in a large, heavy-bottomed pan and cook the onion and garlic gently, until soft but not coloured. Add the chilli, ginger, curry paste and paprika or turmeric and cook, stirring for a couple of minutes. Add the tomatoes, coconut milk, stock, sugar and all the vegetables apart from the peas or spinach. Simmer, stirring from time to time, for 20-25 minutes, or until the vegetables are cooked. Add more water as required during cooking and season to taste with salt and pepper. Lastly add the frozen peas or spinach and cook for a minute or two.
Serve the curry garnished with coriander and accompanied by steamed rice, a bowl of plain yoghurt and some fruit chutney.
Serves 6
Note: if you prefer a non-creamy curry leave out the coconut milk and add more stock. If you have coconut cream rather than milk, that works too. This is a very flexible recipe.