I've always loved Brussels sprouts, even back in the days when my mother used to boil the Bejeezers out of them to go with the Sunday roast. Nowadays I prefer them roasted or stir-fried, until they're cooked enough to be slightly charred, but still a bit crunchy.
If you're a fan of Brussels sprouts I think you will like this recipe. If you're not, give it a try. Some die-hard haters have been swayed when they have tasted their first roasted sprout. Vegetarians can just leave out the chorizo or use prawns instead, if you eat fish. Feel free to play with the quantities of pasta, sprouts and chorizo. I halved the pasta but left everything else the same. The crunchy chick peas are a real winner and make a tasty addition to almost any dish.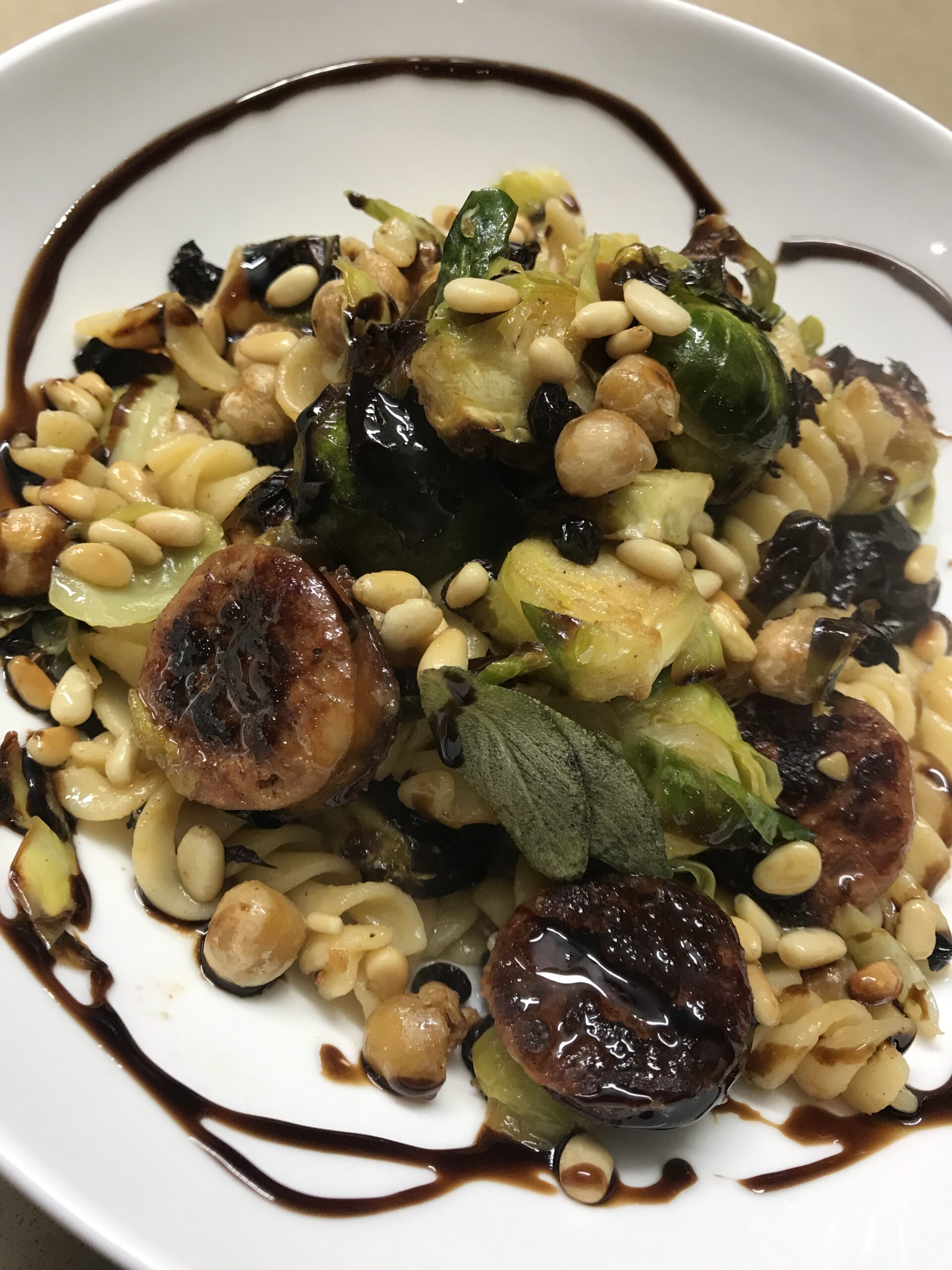 500g Brussels sprouts, trimmed & sliced vertically into 3
2 Tbs olive oil
400g can chickpeas, drained and patted dry with paper towels
1 tsp garlic powder
500g dry pasta of your choice
250g chorizo, sliced
2 Tbs currants
An extra 2 tsp olive oil
A handful of fresh sage leaves
Salt and freshly ground black pepper, to taste
1/3 cup roughly chopped hazelnuts, walnuts, or pine nuts (left whole)
To garnish:
Balsamic glaze
Extra virgin olive oil, walnut or hazelnut oil
Preheat oven to 200°C. Mix sprouts with 1 Tbs oil and season to taste. Spread out on a baking tray lined with baking paper and roast for 10-20 minutes or until starting to brown around the edges. They should be cooked, but still have a bit of bite to them. Alternatively you can cook the sprouts in an Air Fryer. Cook the pasta in a large pan of boiling salted water.
Meanwhile in a non-stick frying pan heat the other tablespoonful of oil. Mix the chickpeas with the garlic powder and a good pinch of salt, then stir fry them for 10-15 minutes until golden and crunchy, stirring frequently. Remove from the pan and set aside. Add sliced chorizo to the pan and cook, stirring often, until browned on both sides. Cover the currants with hot water for 5-10 mins, then drain.
Drain pasta, keeping one cup of the liquid, then put the pasta back into the pan with the reserved liquid and the sprouts. Cook for a minute or two, stirring, until liquid has almost disappeared.
Add the currants, chorizo and chickpeas. Mix well and season to taste. In a small frying pan heat the two teaspoons olive oil and cook the sage leaves for 20-30 seconds, add the nuts then turn off the heat.
Serve pasta garnished with the sage and nuts, a drizzle of oil (olive, hazelnut or walnut) and a drizzle of balsamic glaze around the edge.
Serves 4
Variation: use peeled green prawns instead of chorizo.