This delicious and quick recipe is adapted from one which appeared in a recent Australian Gourmet Traveller.
My supermarket didn't have any lamb backstraps or fillets last week, so I bought boneless leg steaks. I didn't have any pistachio nuts, so I used pine nuts instead. If you don't have any preserved lemons, just add more herbs, some grated lemon rind and maybe a few pine nuts to the salsa.
The recipe serves 4 but it's easily halved.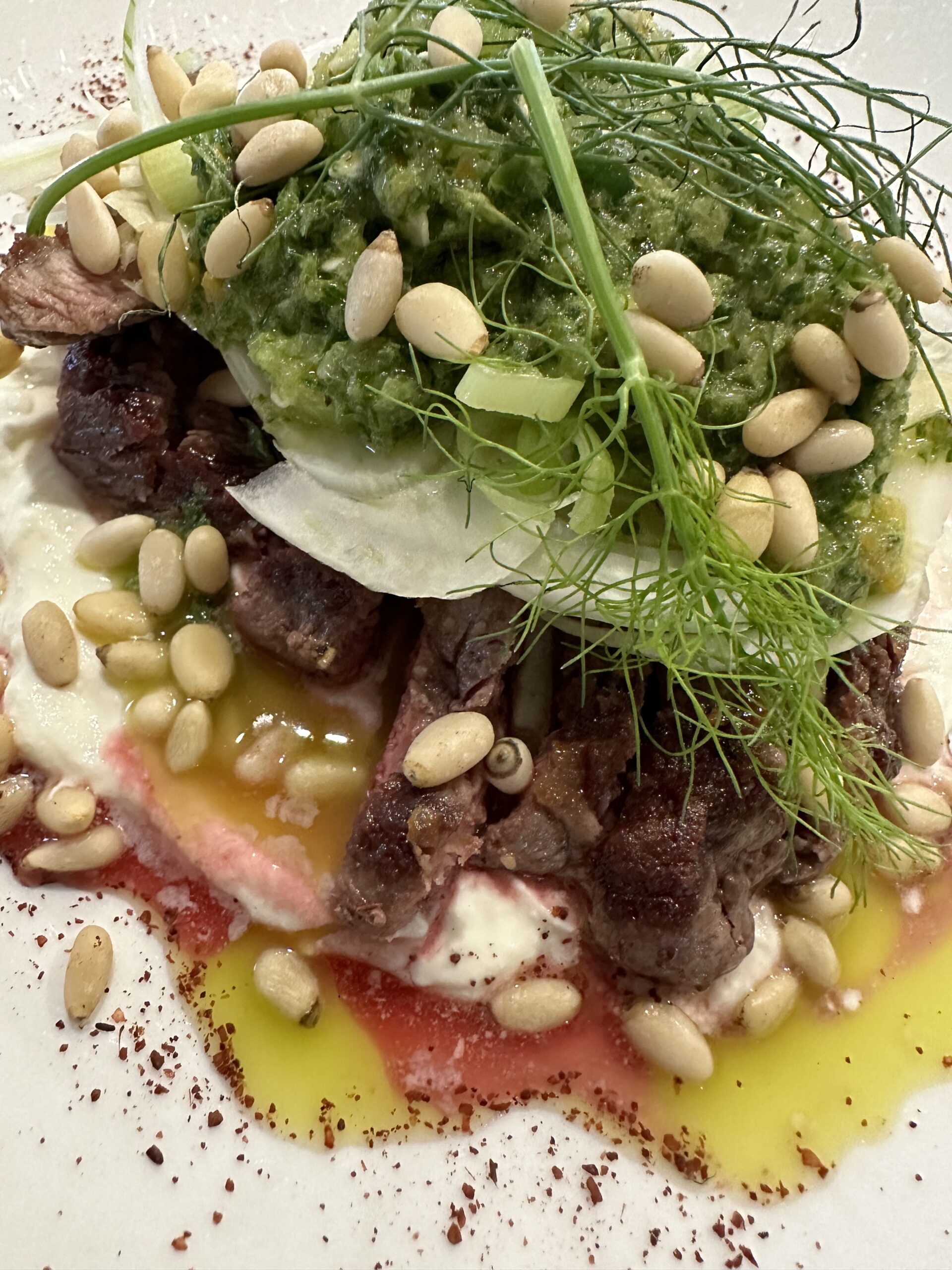 2 lamb backstraps or fillets (or 4 lamb leg steaks trimmed of any fat)
1 Tbs olive oil
Salt and freshly ground pepper, to taste
1 small to medium bulb of fennel
2 spring onions
1 cup Greek yoghurt
¼ cup pistachio nuts or pine nuts
1 tsp sumac (optional)
Salsa Verde:
¼ cup each firmly packed fresh mint and parsley leaves
1 clove garlic, peeled
2 long green chillies, cut into 3 or 4 pieces
1 Tbs cider or white wine vinegar
½ a preserved lemon, pith and seeds discarded
¼ cup Extra Virgin Olive Oil (approximately)
Salt and freshly ground black pepper, to taste
Season the lamb on both sides then cook in a frying pan in the 1 Tbs of oil for 4 minutes each side, over moderate heat, or until cooked to your taste. Leave to rest while you prepare the other ingredients, then slice thinly downwards.
While meat is cooking, thinly slice the fennel with a mandoline, reserving a few fronds to garnish. Thinly slice the spring onions on the diagonal – all the white and a bit of the green part.
Place all ingredients for salsa in food processor except the oil and seasoning. Process, scraping down the sides, until chopped evenly, then add the oil through the chute with the motor running. When you have a thick salsa, season to taste then scrape into a small dish. Lightly toast the nuts in a dry pan over moderate heat.
To serve, divide the yoghurt between 4 serving plates and spread out into a circle. Arrange the fennel and spring onions on top, then the meat. Drizzle with some of the salsa verde, sprinkle a few nuts on top and garnish with a fennel frond. Sprinkle a little sumac (if using) around the edge of the plate.
Serves 4