As I made a batch of garlic butter to have in the fridge over the holiday season I thought to myself that it's one of those recipes which has become "retro". Popular in the seventies and eighties, we used it in garlic bread, on steaks and grilled fish and in Chicken Kiev. But then it went out of favour, along with prawn cocktail, beef bourgignon, steak Diane and all the other dishes we enjoyed before gastronomy took off. Suddenly these recipes weren't posh enough.
Whenever I serve garlic bread to a crowd – fresh from the oven and oozing home-made garlic butter – it always disappears. And a dollop of garlic butter on a freshly barbecued steak, piece of fish or succulent prawn is delicious. So here's the recipe. Oh and it's probably a good idea to label the container so the kids don't ask why the butter's gone green!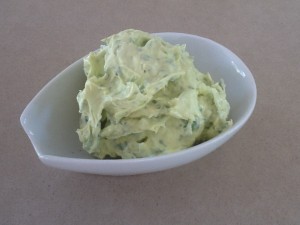 3 heaped Tbs fresh parsley leaves, stalks removed
3 Tbs snipped chives or the green ends of spring onions
1-2 large cloves garlic, crushed
1 250g tub spreadable butter
pinch salt
Place herbs in food processor and process till finely chopped, stopping to scrape down the sides halfway through. Add garlic, butter and salt and process till mixed. Return to the plastic butter container and refrigerate. Keeps for 2-3 weeks in the fridge, but much longer in the freezer. Just thaw long enough to use what you need then put back.
Garlic Bread: make diagonal cuts in a French baguette, not quite through to the bottom. Spread each slice with garlic butter. Wrap the loaf in foil and refrigerate or freeze till needed. Thaw if frozen then bake in a hot oven for about 15 minutes. Serve hot.