At our rural property we had a good crop of cabbages until the earwigs found them. Matthew went up there for a couple of days earlier this week to water the new trees and brought a cabbage back with him. As I started to remove some of the outer chewed leaves out jumped a million earwigs! They were everywhere and it was easy to see what they had been eating. I had to throw away about about half the cabbage before I got down to virgin territory.
I've been reading up on the internet about tried and tested earwig traps and saving empty containers with lids. Vegetable oil with the addition of something attractive to earwigs, such as a dollop of peanut butter or the oil/juice from a can of tuna, is said to do the trick – it lures them in and they drown. We're going to the property the weekend after next and those b***** earwigs had better watch out!
Coleslaw when I was growing up was pretty standard – cabbage, carrot and bought mayonnaise – or Heinz salad cream – sometimes with a tin of crushed pineapple thrown in for good measure. This is a more modern version.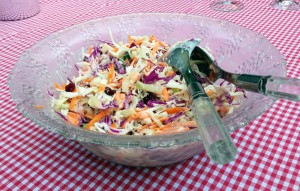 About 4 cups shredded white cabbage
About 4 cups shredded red cabbage
About 1 cup thinly sliced celery
About 1 cup coarsely grated or julienned carrot
About ½ cup thinly sliced green (spring) onions
1 cup dried cranberries (or other dried fruit)
Dressing:
1 cup mayonnaise, preferably home-made
½ cup thick Greek yoghurt or sour cream
½ cup French dressing (see below)
Prepare salad ingredients and place in a large bowl. Place dressing ingredients in a jar with a lid and shake vigorously to emulsify. Add enough dressing to the salad to moisten to your liking – you may not want to use it all. Taste and add more salt if you think it needs it.
Serves 6-8
French Dressing
1 cup oil (sunflower, canola)
¼ cup cider or white wine vinegar
1 Tbs Dijon mustard
salt and freshly ground black pepper to taste
1 Tbs honey (optional)
1-2 cloves garlic peeled and halved
Place all ingredients in a jam jar with a lid and shake vigorously to emulsify. Keeps in the fridge for up to a month. I usually make double or triple in a very large jar so it's always on hand when I need it. If you like a sweet dressing add the honey. Otherwise just add about half a tsp of sugar.