I decided to invent a ginger version of everyone's favourite carrot cake – the one with the cream cheese icing – and came up with this. Using three different types of this versatile tubor – fresh, powdered and crystallised – this cake gives ginger addicts a serious overdose.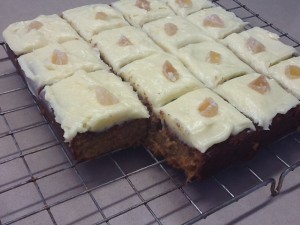 250g butter at room temperature
¾ cup brown sugar
1 Tbs black treacle (or substitute Golden Syrup)
3 Tbs grated fresh ginger
1½ Tbs powdered ginger
3 eggs
2 cups self-raising flour
1 cup plain yoghurt or buttermilk
Icing:
1 x 250g Philadelphia style cream cheese, at room temperature
250g icing sugar (about 2 cups) sifted
1 tsp vanilla essence
Crystallized ginger to decorate
Preheat oven to 170°C. Grease and line a 20-22cm (8-9″) square cake tin with baking paper. Place first five ingredients in food processor and mix well. Add eggs and when incorporated add flour and yoghurt or buttermilk. Stop to scrape down the sides then mix a bit more. Scrape into tin and smooth the top with a knife. Bake for 30-40 mins or until well-risen and a skewer inserted in the middle comes out clean. Cool in the tin. When cold tip out and ice the bottom which gives you a nice flat surface. Decorate with slivers of crystallized ginger – I just used one per square, but you could use more! Cut into squares and store in a container with a lid. Keeps for a day or two outside the fridge in cooler weather, but in summer it's best to refrigerate.
Icing: beat cream cheese and vanilla with icing sugar, either by hand or in food processor, using the pulse button, until light and fluffy. Don't over-beat or the icing will go runny.
Makes 16 generous squares