This is Matthew's favourite cake and he complained that I didn't make it very often. The reason is that it's rather a big cake so I only made it when we had guests, then he would finish it off over the following week.
To keep him happy I now make half the recipe in a large loaf tin which takes about 45 minutes to cook rather than an hour. The quantities for half the recipe are in brackets.
The carrots and cream cheese make this a moist cake which will keep in a tin with a lid for up to a week, refrigerated in warm weather.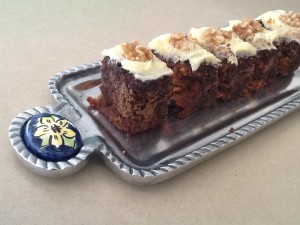 4 eggs (2)
1¾ cups sugar (just over ¾)
1½ cups vegetable oil (¾)
2 cups self-raising flour (1)
2 tsp bicarbonate of soda (1)
2 tsp cinnamon (1)
1 tsp salt (½)
½ tsp ground cloves (optional) (¼)
1 cup chopped walnuts (or ½ cup walnuts and ½ cup raisins) (½ total)
400g coarsely grated carrots (about 4-5 big carrots) (200g)
Icing:
250g cream cheese at room temperature (not the spreadable kind) (125g)
1-2 cups icing sugar, sifted (¾ to 1 cup)
1 tsp vanilla essence (½)
25 walnut or pecan nut halves
Preheat oven to 180ºC. Peel carrots then grate in food processor if you have a grating attachment or by hand. With electric beaters, beat eggs and sugar until thick and creamy and tripled in volume. Gradually beat in oil, fold in sifted dry ingredients, then walnuts (raisins) and carrots. Pour into a 25 cm (9") square tin, greased and bottom-lined with greaseproof paper, and smooth the top. You can use a round tin if preferred, but I like the way a square cake can be cut into lots of small servings.
Bake for an hour in the middle of the oven, or till a skewer inserted in the middle comes out clean. Cool 10-15 minutes in the tin then turn out, cool thoroughly and remove paper. Ice the top only and decorate with 25 walnut halves, 5 down one side and 5 down the other, then fill in the gaps like a chess board. Cut cake into 25 squares. Keeps for several days in a tin.
Icing: Place cream cheese, icing sugar and vanilla in food processor and mix until light and fluffy, stopping once to scrape down the sides. Don't over-mix or it will go thin and runny. If preferred mix the icing by hand. If using a softer, spreadable cream cheese definitely mix by hand.
Cuts into 25 squares