Bill Granger owns three busy cafes in Sydney where he has made his name serving fantastic breakfasts and brunches. We went to the one in Surrey Hills on Sunday a couple of weeks back. You can't book and by the time we arrived it was nearly 10.30 so there was quite a queue. We were told the wait would be 20-30 minutes, which unfortunately ended up being fifty.
Fortunately the meal was worth waiting for. I chose the Gravlax which was good, but not as good as the Ricotta Hot Cakes with Honeycomb Butter, ordered by one of our party, who generously gave me a taste. I'm sure you know the feeling when you realise you should have ordered what someone else is having!
Bill's recipe was easy to find online. It says it serves 6 to 8, but it's not something I would make if I had to serve that many people for breakfast. Let them eat toast! I halved the recipe which made a filling breakfast for two. By making the hot cakes a bit smaller, or serving two per person instead of three, we could have served a third person.
The Honeycomb Butter is delicious, but if you want to serve the hot cakes for breakfast you need to make it the day before as it needs to chill for a couple of hours. If you don't have time for that just spoon it into a small bowl and serve it in dollops. Or forget about the Honeycomb Butter and just drizzle them with honey. At Bill's they serve maple syrup on the side, for those who want to add more sweetness, but I don't think you need it.
To serve the hot cakes as a dessert, make them half the size so you end up with 12 little cakes which will serve 4. They would also be delicious with stewed rhubarb or indeed any fruit – cooked or fresh – that you have available.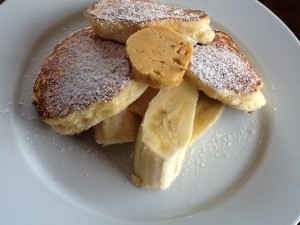 ¾ cup ricotta cheese
1/3 cup milk
2 eggs, separated
½ cup plain flour
½ tsp baking powder
pinch salt
butter for frying
fresh strawberries, halved or sliced banana
icing sugar for dusting
Honeycomb Butter:
125g unsalted butter at room temperature
50g Honeycomb or a Crunchie Bar
1 Tbs honey
Remove chocolate from Crunchie bar with a sharp knife and discard (or eat!). Place all ingredients in food processor and blend until smooth. Shape into a log on plastic wrap, roll up, seal and refrigerate for 2 hours or overnight.
Mix ricotta, milk and egg yolks in bowl. Add sifted flour, baking powder and salt. Whip egg whites in another bowl until stiff peaks. With a metal spoon, fold thoroughly into batter in two batches. Lightly grease a large non-stick frying pan with butter. Make three hotcakes using about 2 heaped tablespoons of batter for each. Cook over medium-high heat for 2 minutes or until golden on the underside. Turn and cook on the other side. Transfer to a warm plate while you make three more, adding a little more butter to the pan.
Serve hotcakes with halved strawberries or thickly sliced banana and a slice of honeycomb butter. If you don't have time to make the Honeycomb butter just serve drizzled with honey instead. Dust with icing sugar.
Makes 6 large hot cakes which serves 2-3
Note: if you can't find ricotta you could use cottage cheese, whizzed in the food processor to remove lumps. South American readers could use queso fresco.