Tiramisu is an Italian dessert consisting of sponge fingers (lady fingers or Savoiardi), egg yolks, mascarpone and a liqueur or fortified wine, traditionally Marsala. There are countless variations on this theme. This version uses egg whites instead of yolks, honey instead of sugar and Bailey's Irish Cream instead of Marsala.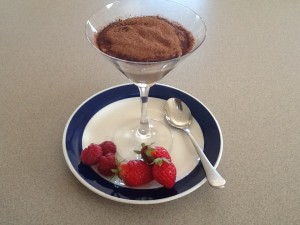 2 Tbs instant coffee powder & ½ cup boiling water
Or ½ cup strong espresso coffee
2 Tbs Bailey's Irish cream liqueur
8 Savoiardi sponge fingers
250g mascarpone, at room temp
1 Tbs runny honey
2 Tbs Bailey's Irish cream liqueur, extra
2 egg whites
Cocoa powder for dusting
Fresh berries to serve
Mix coffee with boiling water and stir to dissolve. Add Baileys. Break each sponge finger into three and add to coffee mixture, stirring to coat. Place 4 pieces of sponge finger in each of six Martini glasses. Divide any remaining coffee mixture among the glasses, pushing down to squash the sponge fingers a bit. Place mascarpone in a mixing bowl. Add honey then Baileys and mix well. In another bowl whip egg whites till soft peaks with electric beaters. Mix into mascarpone, then divide mixture among the six glasses. Chill several hours. Dust with cocoa through a sieve. Serve with berries on the side.
Serves 6