A proper Italian pizza has a thin, crispy crust and minimal topping. Nothing remotely like the thick, soggy versions sold in many fast food chains. The Associazione Verace Pizza Napoletana says that when cooked a pizza base should be no more than 4mm thick at the centre, though it will be thicker around the edges. And they should know, they invented them.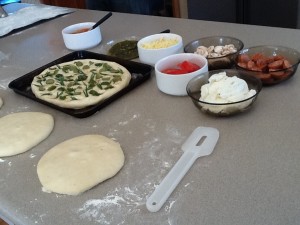 When our kids were growing up pizza featured regularly on the menu. The pizza delivery motorbikes never came to our house because my view is that anything home-made is better than the bought version, not to mention cheaper. At the time our offspring thought they were deprived, but now they have their own families and also make their own.
For a larger group make 3-4 times the recipe and form the dough into balls. Have the toppings ready in small dishes and let people choose their own. With a salad and a bottle or two of vino you're all set for a casual meal which appeals to all ages.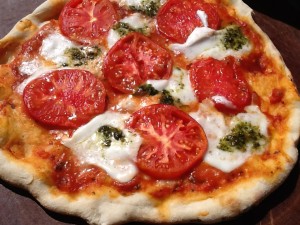 15g fresh yeast or 7g dry yeast
1 tsp sugar
½ tsp salt
2 cups plain flour (preferably 00)
1 Tbs olive oil
½ to ¾ cup warm water
Mix ½ cup warm water with yeast and sugar. Leave for 10 minutes. Sift flour and salt into a bowl, add oregano, oil and yeast mixture. Mix well, adding more warm water until you have a firm, not sticky, dough. If preferred make in a food processor or in a mixer with a dough hook.
Turn dough onto a floured surface and knead for a couple of minutes until smooth and springy. Form into a ball, place in a lightly oiled bowl and turn to coat with oil. Cover and leave at room temperature for an hour, or until doubled in size. Alternatively, cover and refrigerate overnight to prove more slowly.
Preheat oven to its highest temperature. If using, put pizza stone in the oven to get really hot. Knead dough lightly and form into a ball (or two balls) and leave, covered with a tea towel for about 20 mins or until doubled in size.
To assemble pizzas place a ball of dough on a lightly oiled pizza pan and press out to size using oiled fingers, working from the middle out. If using a pre-heated pizza stone, or a wood-fired pizza oven, press dough out into a large round on a well-floured pizza paddle.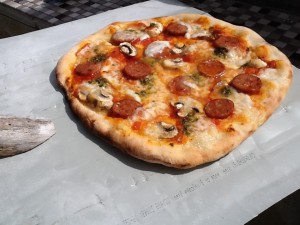 Arrange toppings on pizza – be sparing – less is more. Slide onto stone if using one and bake for about 5 minutes or until golden and crispy. Time will vary depending on your oven. Our outdoor wood-fired oven shown in the photo heats up to over 400°C, so pizzas only take about 3 minutes. In an ordinary oven they can take up to 12 minutes. Keep an eye on it.
Makes one very large or two medium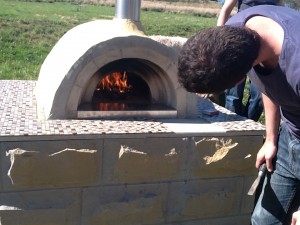 pizzas
Topping suggestions:
Tomato sugo (sold in jars to go with pasta) with thinly sliced mushroom, sliced pepperoni or chorizo and grated mozarella
Pesto with sliced fresh buffalo mozarella and sliced fresh tomatoes
Pesto, peeled prawns, grated mozarella and pine nuts
Additional toppings: stoned olives, anchovies, sun-dried tomatoes, caramelized onions, extra oil, fresh herbs