On a cold wintery day a bowl of steaming soup hits the spot. I'm not a great fan of blue cheese, eaten on its own, but I do like the more subtle flavour you get when you use it in a soup or salad dressing.
We were recently served a soup like this (without the pesto) at a cocktail party at the Press Club, in small espresso cups. I suspect they added at least 2 cups of cream, which was delicious and okay in such small servings, but not what you want to indulge in for lunch.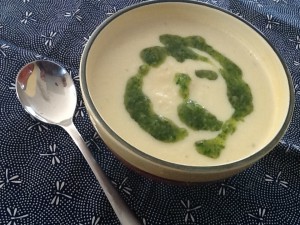 50g butter
1 onion, finely diced
1 cauliflower, trimmed and cut into pieces (stalks are fine too)
4 cups chicken or vegetable stock, preferably home-made
1 cup cream
100g Stilton, or another blue cheese
Milk
Salt and freshly ground black pepper
To serve:
Pesto
Melt butter in a large heavy-based saucepan and cook onion over moderate heat, stirring oven, until soft and translucent. Add cauliflower and stock and simmer for 20 mins or until cauliflower is tender. Cool a bit then blend until smooth in a blender, adding the cream, the blue cheese and some milk to keep things moving. Tip back into the saucepan, adding enough extra milk to achieve desired consistency. Season to taste. Reheat and served topped with a swirl of pesto.
Serves 6