As the weather in Canberra turned cold and wintry we discovered that our crop of carrots had got out of hand and become humongous. Their fate was sealed.
This is my basic creamy smooth soup recipe which can be adapted for any veggies – parsnip, asparagus (though you may have to sieve the strings out), pumpkin, sweet potato or a mix. The addition of ginger goes particularly well with root vegetables but leave it out if you prefer. Sometimes I add a clove or two of garlic when frying the onion.
If using spinach or broccoli, you might like to add a potato, to give the soup a bit more consistency. You can use leeks instead of onions and top with croutons instead of nuts, or just some chopped parsley. Try using a whole cauliflower (you can use most of the stalk) and serving the soup topped with grated cheese, or a hot slice of toasted cheese on toast, made from a French stick. Instead of ginger, with the green veggies try adding a bit of grated nutmeg, cinnamon or mixed spice. Vegetarians can just omit the pancetta.
Make a couple of batches of soup at the weekend, adding everything except the milk, to have ready in the fridge for the week ahead.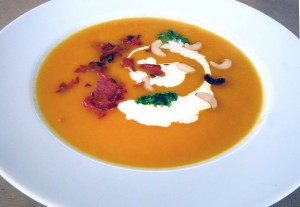 50g butter
2 large onions, peeled and chopped
1.2 kg carrots, peeled and chopped
Chicken or vegetable stock to cover (home-made or use cubes)
1 Tbs grated fresh ginger (or a bit more if you love ginger!)
Milk
Salt and freshly ground black pepper, to taste
To serve:
4 slices pancetta, prosciutto or similar ham (I used Aldi's black forest ham)
4 Tbs raw cashew nuts
Finely chopped parsley or coriander
Cream or sour cream
Heat butter in a large heavy-bottomed saucepan and cook onion gently till soft but not browned. Add carrots, ginger and enough stock to just cover the veggies. Simmer 25 mins or until carrots are cooked. Cool a bit then blend in a blender or food processor until smooth. Recipe can be made ahead to this point and kept in the fridge for several days.
Put soup back in the pan and add enough milk (or if preferred a mixture of milk and water) to make to desired consistency. Season to taste with S and P. Place pancetta on a tray lined with baking paper and cook in a very hot oven 220ºC for 5-10 mins or until crispy, remove, cool then break into chunks. Toast cashews in a dry frying pan over moderate heat.
Reheat soup and serve garnished with the pancetta, nuts, herbs and a swirl of cream.
Serves 4-6