My friend Maggie made this delicious soup when we were staying with them last year in L'Etang la Ville near Versailles on the outskirts of Paris. Apart from the roasting time, it's quick to make and with some nice crusty bread – either fresh or toasted – it's enough for a light supper or lunch. A stick blender is ideal for making this kind of soup where you don't want it completely smooth.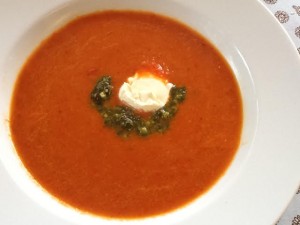 2 large red peppers (capsicums)
4 large ripe tomatoes, or 6 medium, halved
2 red onions, peeled and quartered
1 small red chilli
4 cloves garlic, peeled
2 Tbs olive oil
Salt and freshly ground black pepper
1 litre vegetable or chicken stock
1 Tbs sugar
1 Tbs tomato paste
To garnish:
Sour cream or crème fraîche
Chopped fresh basil or pesto
Preheat oven to 180ºC. Remove seeds from peppers and cut into large chunks about the same size as the tomato halves. Place in a bowl with tomatoes, onions, garlic and chilli, both left whole. Add oil, salt and pepper and mix to coat well.
Line a large baking tray with foil and tip the vegetables onto it, spreading them out into a single layer and drizzling with any oil left in the bowl. Roast for 45 mins until starting to brown a bit at the edges. Tip into a large saucepan. Add stock, sugar and tomato paste. Bring to the boil then blend with a stick blender. If you don't have a stick blender cool the soup a bit and blend in a normal blender then return to the pan. Adjust seasoning to taste and bring to the boil. Serve garnished with sour cream or crème fraîche and some chopped fresh basil or a swirl of pesto.
Serves 4-6