Sometimes translated from the Chinese as Kung Pao rather than Gong Bao, this stir fry from the province of Szechuan in central west China is simple but delicious. The recipe I used called for 4 dried chillies, but one or two would have been enough for us. I'm not a wuss (good Aussie term for a wimp for those who don't know) when it comes to chillies, but dried ones seem to pack more of a punch than fresh ones. As it says on Wikipedia "the use of hot and numbing flavours is a typical element of Szechuan cooking". Clears the sinuses.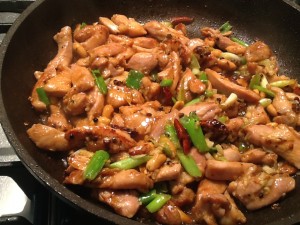 500g boneless, skinless chicken thighs
1 Tbs cornflour
4 Tbs soy sauce
1/3 cup unsalted peanuts or cashews
2 Tbs oil
2 tsp Szechuan peppercorns
1-4 dried red chillies, to taste, roughly chopped
3 cm piece fresh ginger, peeled and finely chopped
2 cloves garlic, peeled and finely chopped
4 spring onions, trimmed & finely sliced on the diagonal
Steamed rice to serve
Slice chicken and mix with the cornflour and 2 Tbs of the soy sauce. Leave to marinate for about 15 mins. Heat a dry pan and toast the nuts for a few minutes, stirring, until golden. Remove and set aside. Heat oil in wok or large frying pan. Add dried chillies and peppercorns and cook, stirring for 2-3 mins. Turn up heat and add chicken. Cook, stirring, until chicken is cooked on both sides. Add ginger, garlic, spring onions and nuts and continue to cook, stirring for 2-3 mins. Add remaining 2 Tbs soy sauce and serve with steamed rice.
Serves 3-4
Note: if you like a touch of sweetness, add 1-2 tsp brown sugar at the end with the soy sauce, or use kecap manis, which is a sweetish soy sauce.