Some friends are on my culinary wave length, so I know when they give me a recipe and say this is great I will like it. This lentil salad recipe came from my friend Lynne. I just added the chick peas which provide a nice flavour and texture contrast. Leave them out if you prefer.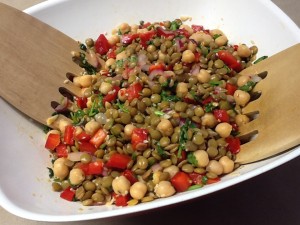 1¼ cups (250g) green lentils
½ red onion, finely chopped
1 small red chilli, seeded and finely chopped
1 red capsicum (pepper) seeded and diced
Grated rind and juice of 1 lemon
¼ cup olive oil
¼ cup sweet chilli sauce
2 cloves garlic, finely chopped
½ cup fresh coriander, chopped
2 tbs sesame oil
2 tbs toasted sesame seeds
Pinch salt
1 can chick peas, rinsed and drained
Place lentils in a saucepan and cover with plenty of water.  Bring to the boil and cook gently for 5 mins. Remove from heat and stand for 5 mins or until lentils are al dente. Time will vary according to the lentils you use, but don't overcook or you won't get a nice crisp salad. Drain and rinse under cold running water. Add remaining ingredients, then cool. Can be made a couple of days in advance and kept in the fridge, which only improves the flavour.
Serves 6